Mr. Hanlon Explains Criticism of R.H.A.
16th September 1955
Page 40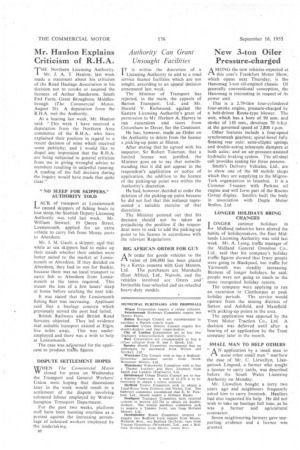 Page 40, 16th September 1955 —
Mr. Hanlon Explains Criticism of R.H.A.
Close
THE Northern Licensing Authority. I Mr. J. A. T. Hanlon, last week made a statement about his criticism of the Road Haulage Association in his decision not to revoke or suspend the licences of Arthur Sanderson, South End Farm, Great Broughton. Middlesbrough (The Commercial Motor, August 26). A deputation from the R.H.A. met the Authority.
At a hearing last week, Mr. Hanlon said: "This week I have received a deputation from the Northern Area committee of the R.H.A., who have explained their position in regard to a recent decision of mine which received some publicity; and I would like to dispel any impression that the R.H.A. are being subjected to general criticism from me in giving wrongful advice to members resulting in unlawful running. A reading of the full decision during the inquiry would have made that quite clear."
"NO SLEEP FOR SKIPPERS," AUTHORITY TOLD LACK of transport at Lossiemouth caused skippers of fishing boats to lose sleep, the Scottish Deputy Licensing Authority was told last week. Mr. William Stewart, 10 Queen Street, Lossiemouth, applied for an extra vehicle to carry fish from Moray ports to Aberdeen.
Mr. J. M. Gault, a skipper, skid that while at sea skippers had to mike up their minds whether their catches were better suited to the market at Lossiemouth or Aberdeen, If they decided on Aberdeen, they had to run for Buckie, because there was no local transport to carry fish to Aberdeen from Lossiemouth at the times required. This meant the loss of a few hours' sleep at home before catching the next tide.
It was stated that the Lossiemouth fishing fleet was increasing. Applicant said that a haulage concern which previously served the port had failed.
British Railways and British Road Services objected. They led evidence that suitable transport existed at Elgin, five miles away. This was underemployed and there was a wish to help at Lossiemouth.
The case was adjourned for the applicant to produce tratfic figures.
DISPUTE SETFLEMENT HOPES
WHEN The Commercial Motor closed for press on Wednesday the Transport and General Workers' Union were hoping that discussions later in the week would result in a settlement of the dispute involving coloured labour employed by Wolverhampton Transport Department.
For the past two weeks, platform staff have been banning overtime as a protest against the increasing percentage of coloured workers employed by the undertaking.
n6