More Tippers Under B Licences A NOTHER application for a' licence
16th September 1955
Page 39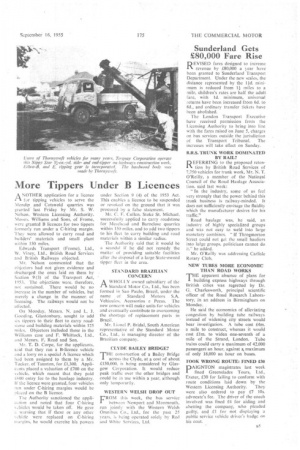 Page 39, 16th September 1955 —
More Tippers Under B Licences A NOTHER application for a' licence
Close
for tipping vehicles to serve the Mendip and Cotswold quarries was granted last Friday by .Mr. S. W. Nelson, Western Licensing Authority. Messrs. Williams and Sons, of Frome, were granted B licences for two tippers formerly run under a C-hiring margin. They were allowed to carry road and builders' materials and small plant within 150 miles.
Edwards Transport (Frome), Ltd., W. Vincy, Ltd., British Road Services and British Railways objected.
Mr. Nelson commented that the objectors had not given evidence and discharged the onus laid on them by Section 9(3) of the Transport Act, 1953. The objectiolis were, therefore, not sustained. There would be no increase in the number of vehicles, but merely a change in the manner. of fleensing. The railways would not be a Fleeted.
On Monday, Messrs. N. and L. J. Gooding, Glastonbury, sought to add six tippers to their fleet to carry roadstone and building materials within 125 miles. objectors included those in the Williams case and F. Whittock, Ltd., and Messrs. F. Read and Son.
Mr. T. D. Corpe, for the applicants, said that they ran a B-licence vehicle and a lorry on a special A licence which had been assigned to them by a Mr. Tucker. of Taunton, for £1,300. Applicants placed a valuation of £700 On the vehicle, which meant that they paid £600 entry fee to the haulage industry. Ii the licence were granted, four vehicles run under C-hiring margins would be placed on the B licence, The Authority sanctioned the applieAon and noted that four C-hiring vehicles would be taken off. He gave a warning that if these or any other vehicle were replaced on C-hiring inargins, he would exercise his powers under Section 9 (4) of the 1953 Act. This enables a licence to be suspended i-evoked on the ground that it was procured by a false statement.
Mr. C. F. Cullen, Stoke St. Michael, successfully applied to carry roadstone for Merehcad and Barnclose quarries within 150 miles, and to add two tippers to his fleet to carry building and road materials within a similar. radius.
The Authority said that it would be a scandal if he did not remedy the matter of providing suitable facilities after the disposal of a large State-owned tipper fleet in the area.
STANDARD BRAZILIAN
• CONCERN
AWHOLLY owned subsidiary of the Standard Motor Co., Ltd., has been formed in Sao Paulo, Brazil, under the name of Standard Motors S.A. Vehiculos, Acessorios e Pecas. The new concern will make units for vehicles and eventually contribute to overcoming the shortage of replacement parts in Brazil.
Mr. Lionel P. Bridal, South American representative of the Standard Motor Co., ltd., is managing director of the Brazilian company.
CLYDE BAILEY BRIDGE? THE construction of a Bailey Bridge across the Clyde, at a cost of about £150,000, is being considered by Glasgow Corporation. It would reduce peak traffic over the other bridges and could be in use within a year, although only temporarily.
WESTERN WELSH DROP OUT CROM this week, the bus service between .Newport and Mbnmouth, run jointly with the Western Welsh Omnibus Co., Ltd., for the past 25 years, is being operated solely by Red and White Services, Ltd.