Pay Claim Not to be Granted Lightly
16th September 1955
Page 37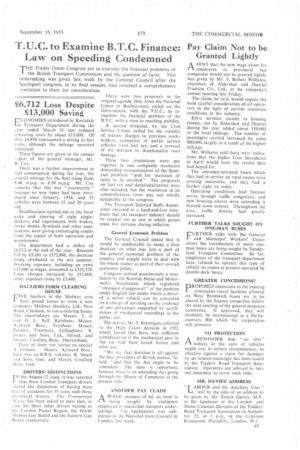 Page 37, 16th September 1955 —
Pay Claim Not to be Granted Lightly
Close
A HINT that the new wage claim for employees in provincial bus companies would not be granted lightly was given by Mr. T. Robert Williams, chairman of Aldershot and District Traction Co., Ltd., at the company's annual meeting last Friday. The claim, he said, would require the most careful consideration of all operators in the light of current economic conditions in the industry. Extra services, mainly to housing estates, run by Aldershot and District during the year added about 150,000 to the total mileage. The number of passengers carried increased by some 900,000, largely as a result of the higher mileage. Mr. Williams said there were indications that the higher fares introduced in April would have the results they had hoped for. The one-man-operated buses which they had in service on rural routes were proving successful, and they had a further eight on order. Operating conditions had become worse through traffic congestion, and new housing estates were extending it beyond town centres. Throughout the area, traffic density had greatly increased.
FURTHER TALKS SOUGHT ON ONE-MAN BUSES CURTNER talks with the General and Municipal Workers' Union about the introduction of more oneman buses are being sought by Sunderland Transport Committee. So far, employees of the transport department have refused to operate this type of vehicle on routes at present operated by double-deck buses.
GREATER CONCESSIONS?
PROPOSED extensions to the existing concession travel facilities allowed on West Bromwich buses are to be placed by the finance committee before the next meeting of the general purposes committee. If approved, they will probably be incorporated in a Parliamentary Bill which the corporation will promote.
NO PROTECTION
PAA REMINDER that "no lifts notices in the cabs of vehicles might not, in certain circumstances, be effective against a claim for damages by an injured passenger has been issued by the Traders' Road Transport. Association. Operators are advised to take out insurance to cover such risks.
MR. DAVIES' ADDRESS
" LABOUR and the Ancillary User" LABOUR be the title of an address to be given by Mr. Ernest Davies, M.P.. at the luncheon of the London and Home Counties Division of the Traders' Road Transport Association on September 22, at 1 p.m., at the Criterion Restaurant, Piccadilly, London, W.1.