Rail Not to Lose All Cattle Traffic : Wasteful Competition
16th September 1955
Page 35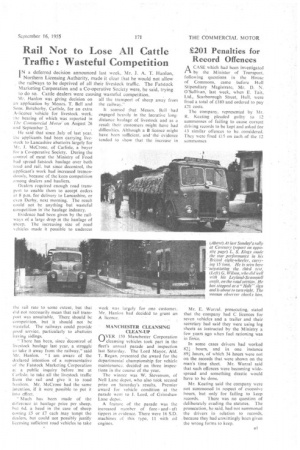 Page 35, 16th September 1955 —
Rail Not to Lose All Cattle Traffic : Wasteful Competition
Close
IN a deferred decision announced last week, Mr. J. A. T. Hanlon,
Northern Licensing Authority, made it clear that he would not allow the railways to be deprived of all their livestock traffic. The Fatstock Marketing Corporation and a Co-operative Society were, be said, trying 10 do so. Cattle dealers were causing wasteful competition.
Mr. Hanlon was giving decision on an application by Messrs. T. Bell and Sons, ,Botcherby, Carlisle, for an extra A-licence vehicle for livestock work, the hearing of which was reported in 11w Commercial Motoron August 26
and September 2. ,
He said that since •July of last year, the applicants had been carrying livestock to Lancashire abattoirs largely for Mr. J. McCronc, of Carlisle, a buyer for a Co-operative Society. During the control of meat the Ministry of Food had spread fatstock haulage over both 'road and rail, but since decontrol, the applicant's work had increased tremendously, because of the keen competition among dealers and hauliers.
Dealers required enough road transport to enable them to accept orders at 8 p.m. for delivery to Lancashire, or even Derby, next morning. The result could not be anything but wasteful competition in' the haulage industry.
Evidence had been given by the railways of a large drop in the haulage of sheep. The increasing size of road vehicles made it possible to undercut the rail rate to some extent, but that did not necessarily mean that rail transport was unsuitable. There Should be competition, but it should not be wasteful. The railways could provide good service, particularly to abattoirs having sidings.
" There has been, since decontrol of livestock haulage lastyear,a struggle to lake it away from the railway," said Mr. Hanlon. "I am aware of the declared intention of a representative of the Fatstock Marketing Corporation at a public inquiry before Me at Carlisle, to take all the livestock traffic from the rail and give it to road hauliers. Mr. McCrone had the same intention, if it were possible to put it into effect.
" Much has been made of the difference in haulage price per sheep, hut 6d. a head in the case of sheep costing £5 or £7 each May tempt the dealers, but could not possibly justify licensing sufficient road vehicles to take all the transport of sheep away from the railway."
It seemed that Messrs. Bell had engaged heavily in the lucrative longdistance haulage of livestOck and as a result their customers .might -have had difficulties. Although a 13 licence might have been sufficient, and' the evidence tended to .1-1ow that the increase. in
work was largely for one customer. Mr. Hanlon had decided to grant an A licence. •
• MANCHESTER CLEANSING CLEAN4/11 QVER 150 Manchester Corporation cleansing vehicles took part in the fleet's annual parade and inspection last Saturday. The Lord Mayer, 'Aid. T. Reean, presented the award for the departmental championship for vehicle maintenance, decided on three inspections in the course of the year.
The winner was W. Stevenson, of Nell Lane depot, who also took second prize on Saturday's results. Premier award for vehicle condition at the parade went lo J. Lord, of Grimshaw Lane depot,
A feature of the parade was the increased number of fore -and -aft tippers in evidence. There were 16 S.D. machines of this type, 11 with oil engines.