Big Campaign to Stop Restrictions A NATIONAL campaign against moves
16th September 1955
Page 34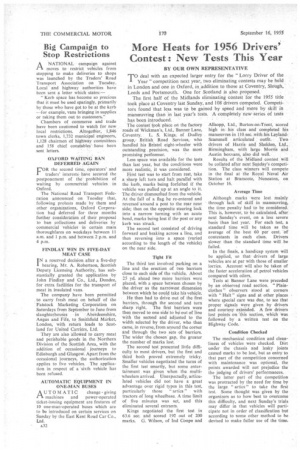 Page 34, 16th September 1955 —
Big Campaign to Stop Restrictions A NATIONAL campaign against moves
Close
to restrict vehicles from stopping to make deliveries to shops was launched by the Traders' Road Transport Association on Tuesday. Local and highway authorities have been sent a letter which states:— " Kerb space has become so .precious that it must be used sparingly, primarily by those who have got to be at the kerb --for example, vans bringing in supplies or taking them out to customers."
Chambers of commerce and trade have been cautioned to watch for new local restrictions. Altogether, -1,846 town clerks, 1,732 municipal engineers, 1,128 chairmen of highway committees and 158 chief constables have been sent letters.
OXFORD WAITING BAN DEFERRED AGAIN r OR the second time, operators' and 1 traders' interestshave secured the postponement of tfiC.prohibition of waiting by commercial vehicles in Oxford.
The National Road Transport Federation announced on Tuesday that, following protests made by them and other organiz.ations, Oxford Corporation had deferred for three months further consideration of their proposal to ban collections and deliveries by commercial vehicles in certain main thoroughfares on weekdays between 11 a.m. and 1 p.m. and between 2 p.m. and 4 p.m.
FINDLAY WIN IN FIVE-DAY MEAT CASE I N a reserved decision after a five-day hearing, Mr. A. Robertson, Scottish Deputy Licensing Authority, has substantially granted the application by John Findlay and Co., Ltd., Dundee, for extra facilities for the transport of meat in insulated vans.
The company have been permitted to carry fresh meat on behalf of the Fatstock Marketing. Corporation on Saturdays from September to June from
slaughterhouses • in Aberdeenshire, Angus and Fife, to Smithfield Market, London, with return loads to Scotland for United Carriers, Ltd.
They are also allowed to carry meat and perishable goods in the. Northern Division of the Scottish Area, with the addition of occasional journeys to Edinburgh and Glasgow. Apart from the occasional journeys, the authorization applies to five vehicles. The application in respect of a 'sixth vehicle has been refused.
AUTOMATIC EQUIPMENT IN ONE-MAN BUSES AUTOMATIC change-giving PA. machines and power-operated ticket-issuing equipment are features of 10 one-man-operated buses which are to be introduced on certain services on Sunday by the East Kent Road Car Co., Ltd.
A32