Passing Comments
16th September 1955
Page 32
Page 33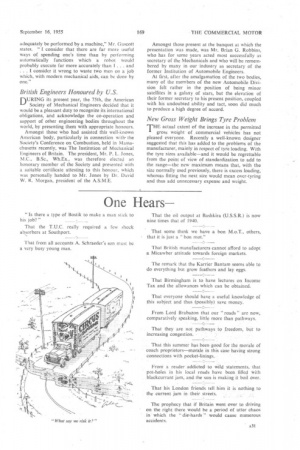 Page 32, 16th September 1955 —
Passing Comments
Close
Keywords :
Road Transport
,
Engineering
,
Pickup Trucks
,
Full-size Vehicles
,
School Buses
,
Vans
,
Convertibles
,
Ford Motor Company
,
Ford E-series
,
Ford Model T
,
Vehicle Identification Number
,
Automation
Wall's Model T Ford for Galas
FOR 12 years, Model T Ford vans performed excellent work for those well-known makers and purveyors of ice cream, T. Wall and Sons, Ltd., but the last went out of service in 1935.
Some time ago, Mr. Cecil W. Rodd, chairman of the company, instituted a search with the idea of discovering one of these old vehicles and reconditioning it for use in carnivals and suchlike occasions. At last one was located at St. Albans and brought to The Friary at Acton, where it was completely reconditioned, the chassis by mechanic Mr. H. Murins,
Wall's refurbished Model T van being inspected at Dagenham by Sir Patrick Hennessy. From the left are Mr. W. F. Tartan (Wall's fleet engineer), Sir Patrick, Mr. F. T Phipps (Ford), and Mr. R. D. B. Robathan (Wall's). A30 who has been with the company for 33 years, and the body in the company's body shop.
A T-type engine was found in Liverpool, authentic tyres were also discovered and the vehicle is now fully restored as a 1926 model, the only addition being side lights and, presumably, reflectors.
The original fleet of Ford vans used to make runs daily to Aldershot, Redhill or Sevenoaks, but it was quite normal for a driver to take a van to Bristol and back in a day. Each carried 96 cans of ice cream in an insulated cabinet.
Part of the makers' reward for this good service is the 70 Ford Thames vehicles that have already been delivered to Wall's this year.
Automation in Transport
UNDER the appalling title: " Automatransporta"-1 tion?—Automabus? " the Railway Review, official organ of the National Union of Railwaymen, recently published an interesting article on automation in the bus industry by Mr. F. H. Guscott, a busman student of economics.
Mr. Guscott is convinced that the one-manoperated vehicle is the buk of the future, and would agree—with safeguards—to its immediate introduction, although he states that the full benefits of automation can be obtained only under a fully Socialist transport policy.
He puts in a nutshell the Socialist attitude to automation. "I consider it criminal to waste time on anything of a routine nature which could
adequately be performed by a machine," Mr. Guscott states. "I consider that there are far more useful ways of spending one's time than by performing automatically functions which a robot would probably execute far more accurately than 1 . . . and . . . I consider it wrong to waste two men on a job which, with modern mechanical aids, can be done by one."
British Engineers Honoured by U.S.
nURING its present year, the 75th, the American I—' Society of Mechanical Engineers decided that it would be a pleasant duty to recognize its international obligations, and acknowledge the co-operation and support of other engineering bodies throughout the world, by presenting them with appropriate honours.
Amongst those who had assisted this well-known American body, particularly in connection with the Society's Conference on Combustion, held in Massachusetts recently, was The Institution of Mechanical Engineers of Britain. The president, Mr. P. L. Jones, M.C., B.Sc., Wh.Ex., was therefore elected an honorary member of the Society and presented with a suitable certificate attesting to this honour, which was personally handed to Mr. Jones by Dr. David W. R. Morgan, president of the A.S.M.E. Amongst those present at the banquet at which the presentation was made, was Mr. Brian G. Robbins, who has for some years acted most successfully as secretary of the Mechanicals and who will be remembered by many in our industry as secretary of the former Institution of Automobile Engineers.
At first, after the amalgamation of the two bodies, many of the members of the new Automobile Division felt rather in the position of being minor satellites in a galaxy of stars, but the elevation of their former secretary to his present position, coupled with his undoubted ability and tact, soon did much to produce a high degree of accord.
New Gross Weight Brings Tyre Problem
'J THE actual extent of the increase in the permitted 'HE weight of . commercial vehicles has not pleased everyone. Recently a well-known designer suggested that this has added to the problems of the manufacturer, mainly in respect of tyre loading. With the tyre sizes available—and it would be regrettable from the point of view of standardization to add to the range—the new maximum means that, with the size normally used previously, there is excess loading, whereas fitting the next size would mean over-tyring and thus add unnecessary expense and weight.