THE TRAM-BUS WAR IN MANCHESTER
16th September 1938
Page 51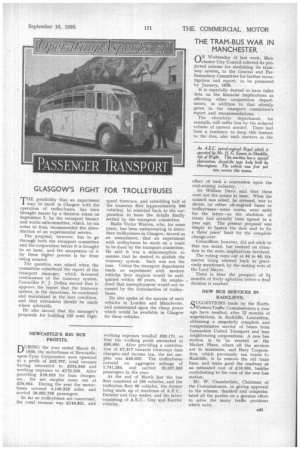 Page 51, 16th September 1938 —
THE TRAM-BUS WAR IN MANCHESTER
Close
ON Wednesday of last week, Manchester City Council referred its projected scheme for abolishing its tramway system, to the General and Parliamentary Committee for further investigation and report, to be presented by January, 1939.
It is especially desired to have fuller data on the financial implications as affecting other corporation departments, in addition to that already given in the transport committee's report and recommendations.
The electricity department, for example, will suffer loss by the reduced volume of current needed. There had been a tendency to keep thls feature to the fore, also such matters as the effect of such a conversion upon the coal-mining industry.
Sir William Davy said that these were not the points at issue. What the council was asked, he stressed, was to decide on either oil-engined buses or trolleybuses—some routes were unfit for the latter—as the abolition of trams had actually been agreed to a year ago. The present proposal was simply to hasten the date and to fix a three years' limit for the complete change-over.
Councillors, however, did not stick to that one detail, but insisted on attention to the main implications involved.
The voting came out at 44 to 44, the matter being referred back as previously mentioned, by the casting vote of the Lord Mayor.
There is thus the prospect of 3i months of lively agitation before a final decision is reached.
NEW BUS SERVICES IN RADCLIFFE.
SUGGESTIONS made by the NorthWesternTraffic Commissioners a year ago have resulted, after 12 months of negotiations, in Radcliffe, Lancashire. obtaining a singularly complete and comprehensive service of buses from Lancashire United Transport and four neighbouring corporations. A new bus station is to be erected at the Market Place, where all the services are to terminate, and Bury Corporation, which previously ran trams ta Radcliffe, is to remove the old tram lines, and make good the roadway at an estimated cost of £10,000, besides contributing to the cost of the new bus station.
Mr. W. Chamberlain, Chairman of the Commissioners, in giving approval to the scheme, thanked and congratulated all the parties on a genuine effort to solve the many traffic problems which exist,