GLASGOW'S FIGHT FOR TROLLEYBUSES
16th September 1938
Page 51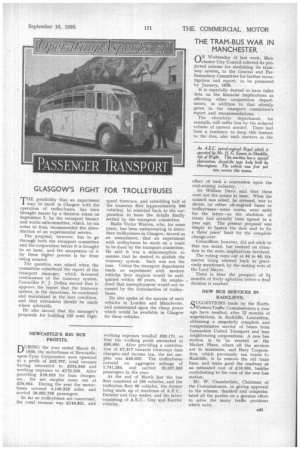 Page 51, 16th September 1938 —
GLASGOW'S FIGHT FOR TROLLEYBUSES
Close
T"E possibility that an experiment may be made in Glasgow with the operation of trolleybuses, has been brought nearer by a-decision taken on September 7, by the transport finance and works subcommittee, which, by six votes to four, recommended the introduction of an experimental service.
The proposal, however, has to go through both the transport committee and the corporation -before it is brought to an issue, and the acceptance of it by these higher powers is far from being assured.
The question was raised when the committee considered the report of the transport manager, which favoured continuance of the tramway system. Councillor P. J. Dollan moved that it approve the report that the tramway system, in the meantime, be continued and maintained in the best condition, and that extensions should be made where advisable, He also moved that the manager's proposals for building 125 semi high speed tramcars, and rebuilding half of the tramway fleet (approximately 500 vehicles), be remitted back to the corporation to have the details finally settled by the transport committee.
Bailie Victor Warren, who, for some years, has been endeavouring to introduce trolleybuses in Glasgow, moved as an amendment, that an experiment with trolleybuses be made on a route to be fixed by the transport committee. He said it was a misconception to assume that he desired to abolish the tramway system. Such was not the case. Unless the transport department made an experiment with modern vehicles their seqices would be antiquated within 20 years. He emphasized that unemployment would not be caused by the introduction of trolleybuses.
He also spoke of the success of such vehicles in London and Manchester, and commented upon the cheap power which would be available in Glasgow for these vehicles.