OPINIONS
16th September 1938
Page 49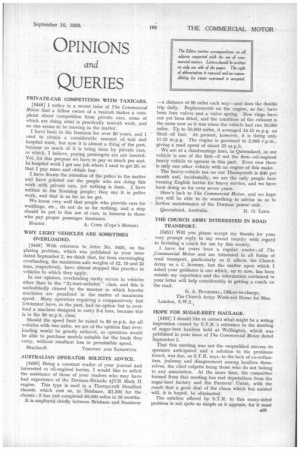 Page 50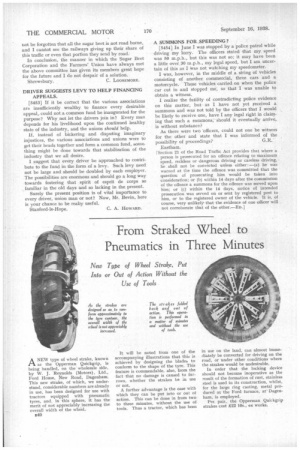 Page 49, 16th September 1938 —
OPINIONS
Close
and
UERIES
PRIVATE-CAR COMPETITION WITH TAXICABS.
[5448] I notice in a recent issue of The Commercial Motor that a fellow owner of a taxicab makes a complaint about competition from private cars, some of which are doing what is practically taxicab work, and no one seems to he moving in the matter.
I have been in the business for over 30 years, and I used to obtain a considerable amount of taxi and hospitalwork, but now it is almost a thing of the past, because so much of it is being done by private cars, in which, I believe, paying passengers are not insured. Yet, for this purpose we have to pay so much per seat. In hospital work I get one job where I used to get 20, so that I pay more and obtain less.
I have drawn the attention of the police to the matter and have pointed out the people who are doing this work with private cars, yet nothing is done.. I have written. to the licensing people ; they say it is police work, and that is as far as we get.
We know very well that people who provide cars for weddings, etc., do not do so for nothing, and a stop should be putto this use of cars, in fairness to those who pay proper passenger insurance.
Heanor. A. COPE (COpe'S Motors).
WHY LIGHT VEHICLES ARE SOMETIMES OVERLOADED.
[5449] With reference to letter No. 5435, on the plating problem, which was published in your issue dated September 2, we think that, far from encouraging overloading, the maximum axle weights of 12, 19 and 22 tons, respectively, have almost stopped this practice in vehicles to -which they apply.
In our opinion, overloading rarely occurs in vehicles other than in the " 2i-tons-unladen " class, and this is undoubtedly caused by the manner in which heavier machines are penalized in the matter of maximum speed. Many operators requiring a comparatively fast 5-6-tonner have, in the past, had no option but to overload a machine designed to carry 3-4 tons, because this is in the 30 m.p.h. class.
Should the speed limit be raised to 30 m.p.h. for all vehicles with two axles, we are of the opinion that overloading would be greatly reduced, as operators would be able to purchase models suitable for the loads they carry, without resultant loss in permissible speed.
Bracknell. TIMOTHY AND SANDWITH.
AUSTRALIAN OPERATOR SOLICITS ADVICE.
[5450] Being a constant reader of your journal and interested in oil-engined lorries, I would like to solicit the assistance of those of your readers who may have had experience of the Dorman-Ricardo 4JUR Mark II engine. This type is used in a Thornycroft Steadfast chassis, which cost us, in Brisbane, £1,200 for the chassis; it has just completed 60,000 miles in 16 months.
It is employed Chiefly between Brisbane and Nambour —a distance of 80 miles each way—and does the double trip daily. Replacements on the engine, so far, have been four valves and a valve spring. New rings have not yet been fitted, and the condition of the exhaust is the same now as it was when the vehicle had run 10,000 miles. Up to 50,000 miles, it averaged 14-15 m.p.g. on Shell oil fuel. At present, however, it is doing only 11-12 m.p.g. The engine is governed to 2,000 r.p.m., giving a road speed of about 25 m.p.h.
' We are at a disadvantage here, in Queensland, as our vehicle is one of the first—if not the first—oil-engined heavy vehicle to operate in this part. Even now there is only one other vehicle with an engine of this make.
The heavy-vehicle tax on our Thornycroft is £41) per month and, incidentally, we are the only people here running English lorries for heavy service, and we have been doing so for over seven years.
Here's luck to The Commercial Motor, and we hope you will be able to do something to advise us as to further maintenance of the Dorman power unit.
Queensland, Australia. H. 0. LIND.
THE CHURCH ARMY INTERESTED IN ROAD TRANSPORT.
[5451] Will you please accept my thanks for your very prompt reply to my recent inquiry with regard to licensing a coach for use by this society.
I have for years been a regular reader, of The Commercial Motor and am interested in all forms of road transport, particularly as it affects the Church. Army as a C licensee, but the matter upon which I asked your guidance is one which, up to now, has been outside my experience and the information contained in your letter will help considerably in getting a coach on the road.
G. A. BUCKNELL, Officer-in-charge,
The Church Army Work-aid Home for Men. London, S.W.2.i
HOPE FOR SUGAR-BEET HAULAGE.
[5452] I should like to correct What might be a wrong impression caused by S.T.R.'s reference to the meeting of sugar-beet hauliers held at Wellington, which was published in your issue of The Commercial Motor dated September 2.
That this meeting was not the unqualified success its sponsors anticipated and a solution to the problems found, was due, as S.T.R. says, to the tack of co-ordination, jealousy and disagreement among hauliers themselves, the chief culprits being those who do not belong to any association. At the same time, the committee formed from that meeting has met deputations from the sugar-beet factory and the Farmers' Union, with the result that a good deal of the chaos which has existed will, it is hoped, be eliminated.
The solution offered by S.T.R. to this many-sided problem is not quite so simple as it appears, for it must 1339 not be forgotten that all the sugar beet is not road borne, and I cannot see the railways giving up their share of this traffic or even that portion they send by road.
In conclusion, the manner in which the Sugar Beet Corporation and the Farmers' Union have always met the above committee has given its members great hope for the future and I do not despair of a solution.
Shrewsbury. C. LOOSEMORE.
DRIVER SUGGESTS LEVY TO HELP FINANCING APPEALS.
[5453] If it be correct that the various associations are insufficiently wealthy to finance every desirable appeal, could not .a common fund be inaugurated for the purpose? Why not let the drivers join in? Every man depends for his livelihood upon the continued healthy state of the industry, and the unions should help.
If, instead of bickering and disputing imaginary injustices, the various associations and unions were to get their heads together and form a common fund, something might be done towards that stabilization of the industry that we all desire.
I suggest that every driver be approached to contribute to the fund in the form of a levy. Such levy need not be large and should be doubled by each employer. The possibilities are enormous and should go a long way towards fostering that spirit of esprit de corps so familiar in the old days and so lacking in the. present.
Surely the present position is of vital importance to every driver, union man or not? Now, Mr. Bevin, here is your chance to be really useful.
Stanford-le-Hope. C. A. HOWARD.
A SUMMONS FOR SPEEDING?
[5454] In June 1 was stopped by a police patrol while driving my lorry. The officers stated that my speed was 50 m.p.h., but this was not so; it may have been a little over, 30 m.p.h., my legal speed, but 1 am uncertain of this as I was not watching my speedometer.
I was, however, in the middle of a string of vehicles consisting of another commercial, three cars and a motorcycle. These vehicles carried on when the police car cut in and stopped me, so that I was unable to obtain a witness.
I realize the futility of contradicting police evidence on this matter, but as I have not yet received a summons and was not told by the officers that I would be likely to receive one, have I any legal right in claiming that such a summons, should it eventually arrive, is without substance?
As there were two -officers, could not one be witness for the other and state that I was informed of the
possibility of proceedings? G.R.. Eastham.
iSection 21 of the Road Traffic Act provides that where a person is prosecuted for an offence relating to maximum speed, reckless or dangerous driving or careless driving, he shall not be convicted unless either:—(a) he was warned at the time the offence was committed that the question of prosecuting him would be taken into consideration; or (b) within 14 days after the commission of the offence a summons for the offence was served upon him; or (c) within the 14 days, notice of intended prosecution was served on or sent by registered post to him, or to the registered owner of the vehicle. It is, of course, very unlikely' that the evidence of one officer will not corroborate that of the other.—En.]