WHERE TO FIND HAULAGE BUSINESS
16th September 1932
Page 69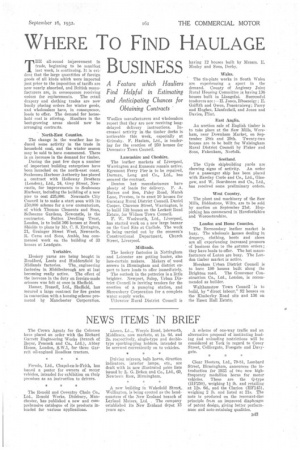 Page 69, 16th September 1932 —
WHERE TO FIND HAULAGE BUSINESS
Close
THE all-round improvement in trade, beginning to be manifest last week, is continuing. It is evident that the large quantities of foreign goods of all kinds which were imported just prior to the imposition of tariffs are now nearly absorbed, and British manufacturers are, in consequence receiving
orders for replacements. The retail drapery and clothing trades are now busily placing orders for winter goods, and wholesalers have, in consequence, loads to offer. The demand for household coal is stirring. Hauliers in the Feet-growing areas should now be arranging contraets.
North-East Counties.
The change in the weather has induced some activity in the trade in household coal, and the winter season may be said to have commenced. There is an increase in the demand for timber.
During the past few days a nurieber of important building enterprises have been launched on the north-east coast. Seahousee Harbour Authority has placed a contract with Holloway Brothers (London), Ltd., 24, Grey Street, Newcastle, for improvements to Seahouses Harbour, including the building of a new pier to cost £25,000. Newcastle City Council is to make a start soon with its £50,000 scheme for a new crematorium, of which Thomas Clements and Sous, Se'bourne Gardens, Newcastle, is the contractor. Sutton Dwelling Trust, London, is to build 366 houses at South Shields to plans by Mr. O. S. Errington, 21, Grainger Street West, Newcastle. R. Carse and Sons, Amble, has commenced work on the building of 33 houses at Leadgate.
Yorkshire.
Hosiery yarns are being bought in Bradford, Leeds and Huddersfield by
Midlands factories. The engineering factories in Middlesbrough are at last becoming really active. The effect of the increase in the duty on foreign-made scissors was felt at once in Sheffield.
Hamer, Russell, Ltd., Sheffield, has secured a large contract for fire grates in connection with a housing scheme promoted by Manchester Corporation.
Woollen manufacturers and wholesalers report that they are now receiving longdelayed delivery instructions. Increased activity in the timber docks is noticeable this Week, especially at Grimsby. F. Haslam, Ltd., is tendering for the erection of 250 houses for Doncaster Town Council.
Lancashire and Cheshire.
The leather markets of Liverpool, Warrington and Runcornremain active. Egremont Perry Pier is to be repaired, Dorman, Long and Co., Ltd., has secured the contract.
Denton hat manufacturers have plenty of loads for delivery. P. A. Baines and Son, Paley Road, Marsh Lane, Preston, is to erect 10 house for Garstang Rural District Council. Daniel Conner, Clarence Street, Warriugton, is to build 138 houses On the Lockett Road Estate, for Widnes Town Council.
F. W. Woolworth, Ltd., Liverpool, has started work on a new large bazaar on the Gaol Site at Carlisle. The work is being carried out by the concern's Constructional Departinent, Church Street, Liverpool.
Midlands.
The hosiery factories in Nottingham and Leicester are getting busier, also lace-curtain makers. Makers of wood screws in Birmingham and district exe peet to have loads to offer immediately.
The outlook in the potteries is a little brighter. Newport, Salop, Urban District Council is inviting tenders for the erection of a pumping station, and Shrewsbury Corporation for a complete water supply works.
Utto.-14.2ter Rural District Council is having 12 houses built by Messrs. E. Mosley and Sons, Derby.
Wales.
The tin-plate works in South Wales are experiencing a spurt in the demand. County of Anglesey Joint Rural Housing Committee is having 136 houses built in Llangefni. Successful tenderers are Jones, Rhosneigr ; E. Griffith and Owen, Pencarniswg; Parry and Hughes, Llanfechell, and Jones and Davies, Flint.
East Anglia.
An auction sale of English timber ia to take place at the Saw Mills, Wereham, near Downham Market, on September 28th and 20th. Twenty-two houses are to be built for Walsingham Rural District Council by Fisher and Sons, Fakenham, Norfolk.
Scotland.
The Clyde shipbuilding yards are showing signs of activity. An order for a passenger ship has been placed with Barclay Curie and Co., Ltd., Glasgow, and W. Beardmore and Co., Ltd., has received some preliminary orders.
West Country.
The plant and machinery of the Saw Riddestone, Wilts, are to be sold by auction On September 21st. Hoppicking has commenced in Herefordshire and Worcestershire.
London and Home Counties.
The Bermondsey leather market is busy. The wholesale houses dealing in drapery, clothing, boots and shoes are all experiencing increased pressure of business due to the autumn orders ; they have loads to offer. The hat manufacturers of Luton are busy. The London timber market is active.
Horsham Urban District Council is to have 100 houses built along the
Brighton road. The Grosvenor Construction Co., Ltd., London, is recommended as builder.
Walthamstow Town Council is •to build, by "direct labour," 92 houses on the Kimberley Road site and 136 on the Essex Hall Estate.
Tags
Locations
:
Preston
,
Leeds
,
Sheffield
,
Glasgow
,
Nottingham
,
London
,
Leicester
,
Birmingham
,
Bradford
,
Derby
,
Liverpool
,
Newport
,
Huddersfield
,
Newcastle