NEWS ITEMS " IN BRIEF
16th September 1932
Page 69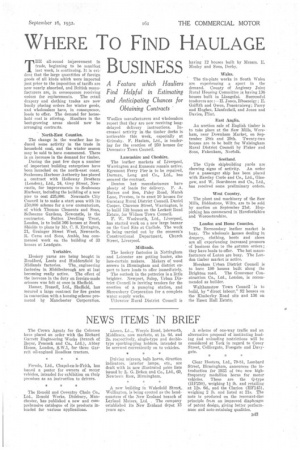 Page 69, 16th September 1932 —
NEWS ITEMS " IN BRIEF
Close
The Crown Agents for the Colonies have placed. an order with the Richard Garrett Engineering Works (branch of Beyer, Peacock and Co., Ltd.), Abbey House, London, SAVA, for three Garrett oil-engined Roadless tractors.
Ferodo, Ltd., Chapel-en-le-Frith, has issued a poster for owners of motor vehicles, intended for exhibition on their premises as an instruction to drivers.
The Renold and Coventry Chain Co., Ltd., Renold Works, Didsbury, Manchester, has published a new and comprehensive catalogue of its products intended for various applications.
.Lissen, Worple Road, Isleworth,
Middlesex, now markets, at is. lid. and 2s. respectively, single-type and doubletype sparking-plug holders, intended to be screwed conveniently on to vehicles.
Driving mirrors, bulb horns, direction indicators, interior lamps, etc., are dealt with in new illustrated price lists issued by L. G. Beken and Co., Ltd., 69, Newtown Row, Birmingham.
A new building in Wakefield Street, Wellington, is being erected as the headquarters of the New Zealand branch of Leyland Motors, Ltd. . The company established its New Zealand depot 13 years ago.
A scheme of one-way traffic and an alternative proposal of instituting loadlug and unloading restrictions will be considered at York in regard to Corley Street, Colliergate, Foesgate and Davygate.
Clear Hooters, Ltd., 79-81, Lombard Street, Birmingham, announces the introduction for 1933 of two new highfrequency medallion horns for motor vehicles. These are the Q-type (EIF250), weighing 11 lb. and retailing at 12s. 6d., and the Clarion (HF145), weighing 2 lb. and listed at 21s. The note is produced on the resonant-disc principle from an improved diaphragm of patent design, giving better performance and note-retaining qualities.