A Demonstration "Accident"
16th September 1932
Page 57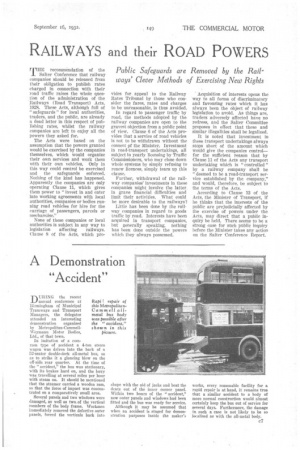 Page 57, 16th September 1932 —
A Demonstration "Accident"
Close
D1.111ING the recent annual conference at Birmingham of Municipal Tramways and Transport Managers, the delegates attended an interesting demonstration organized by Metropolitan-CammellWeymann Motor Bodies, Ltd., of that town.
In imitation of a common type of accident a 4-ton steam wagon was driven into the back of a 52-seater double-deck all-metal bus, so as to strike it a glancing blow on the off-side rear quarter. At the time of the "accident," the bus was stationary, with its brakes hard on, and the lorry was travelling at several miles per hour with steam on. It should be mentioned that the steamer carried a wooden ram, so that the force of impact was concentrated on a comparatively small area.
Several panels and two windows were damaged, as well as two of the vertical members of the body frame. Workmen immediately removed the defective outer panels, forced the verticals back into shape with the aid of jacks and beat the dents out of the inner corner panel. Within two hours of the "accident," new outer panels and windows had been fitted and the bus was ready for service.
Although it may be assumed that when an accident is staged for demonstration purposes inside the maker's works, every reasonable facility for a rapid repair is at hand, it remains true that a similar accident to a body of more normal construction would almost certainly keep the bus out of service for several days. Furthermore, the damage in such a case is not likely to be so localized as with the all-metal body.