A 30-ton Trailer for Road Making
16th September 1932
Page 56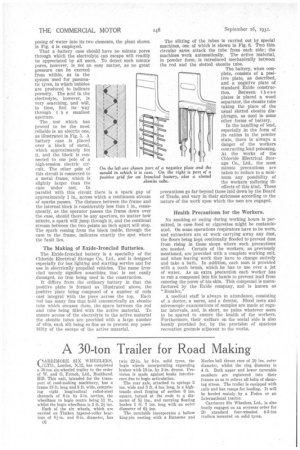 Page 56, 16th September 1932 —
A 30-ton Trailer for Road Making
Close
.CARRIMORE SIX WHEELERS, LTD., London, N.12, has completed a 30-ton six-wheeled trailer to the order of W. and G. French, Ltd., Backhuret Hill. This unit, intended for the transport of road-making machinery, has a frame 18 ft. long and 8 ft. wide, comprising eight longitudinal rolled-steel channels of 8-in by 3-in. section, the wheelbase to bogie centre being 11 ft., whilst the bogie wheelbase is 3 ft. 2 ins.
Each of the six wheels, which are carried on Timken tapered-roller bearings of 81-in. and 6-in, diameter, has c6 twin 22-in. by 8-in, solid tyres, the bogie wheels incorporating expanding brakes with 18-in. by 3-in. drums. Provision is made against brake interference due to bogie articulation.
The rear axle, attached to springs 5 ins, wide and 3 ft. 4 ins, long, is a high. tensile steel forging of section 6 ins. square, turned at the ends to a diameter of 5i ins., and carrying floating bushes 1 ft. 7 ins, long with an outer diameter of 61, ins.
The turntable incorporates a hollow king-pin casting with a Ransome and Marks ball thrust race of 11) ins, outer diameter, whilst the ring diameter is 4 ft. Both upper and lower turntable members are registered into their frames so as to relieve all bolts of shearing stress. The trailer is equipped with rails and has ramps for loading. It will be hauled mainly by a Foden or an International tractor.
Carrimore Six Wheelers, Ltd., is also busily engaged on an overseas order for 20 standard four-wheeled 4-5-ton trailers mounted on solid tyres.