THE STEPNEY CARRIER IMPROVED
16th September 1932
Page 52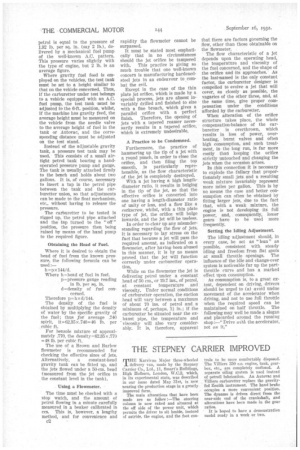 Page 52, 16th September 1932 —
THE STEPNEY CARRIER IMPROVED
Close
THE Karrivan Major three-wheeled delivery van, made by the Stepney Carrier Co., Ltd., 11, Smart's Buildings, High Holborn, London, IV.C.2, which, in its experimental state, was described in our issue dated May. Slat, is now nearing the production stage in a greatly improved form.
The main alterations that have been made are as follow :—The steering column is now raked and situated at the off side of the power unit, which permits the driver to sit beside, instead of astride, the engine, and the foot con trols to be more comfortably disposed. The Villiers 350 c.c. engine, tank, gearbox, etc., are completely enclosed. A separate oiling system is used instead of petroil lubrication. An Autovac and Villiers carburetter replace the gravityfed Zenith instrument. The hand brake occupies a more convenient position. The dynamo is driven direct from the near-side end of the crankshaft, and alterations have been made in the gear ratios.
• It is hoped to have a demonstration model ready in a week or two.