Municipal Purchases and Proposals.
16th September 1932
Page 46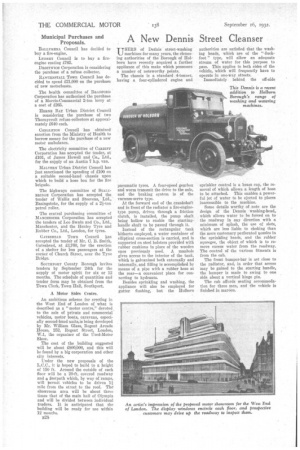 Page 46, 16th September 1932 —
Municipal Purchases and Proposals.
Close
BALLYMENA Council has decided to buy a fire-engine.
LYDNEY Council is to buy a fireengine eosting £765.
Dnorrwtco Corporation is considering the purchase of a refuse collector.
BAWTENSTALL Town Council has decided to spend £21,000 on the purchase of new motorbuses.
The health committee of BRADFORD Corporation has authorized the purchase of a Morris-Commercial 2-ton lorry at a cost of £265.
HERNE BAY Urban District Council is considering the purchase of two Thornyeroft refuse collectors at approximately £640 each.
CONGLETON COURCli has obtained sanction from the Ministry of Health to borrow money for the purchase of a new motor ambulance.
The electricity committee of CARDIFF Corporation has accepted the tender, at £101, of James Howell and Co., Ltd., for the subply of an Austin 7 h.p. van.
MALVERN Urban District Council has just sanctioned the spending of £100 on a suitable second-hand chassis upon which to build a hose box for the fire brigade.
The highways committee of STALYBRIDGE Corporation has accepted the tender of Wallis and Steevens, Ltd., Basingstoke, for the supply of a 2i-ton petrol roller.
The central purchasing committee of
ANCUESTER Corporation has accepted the tenders of Leo Swain and Co., Ltd., Manchester, and the Henley Tyre and Rubber Co., Ltd., London, for tyres.
GATESHEAD Town Council has accepted the tender of Mr. C. B. Smith, Gateshead, at £3,760, for the erection of a shelter for bus passengers at the corner of Church Street, near the Tyne Bridge.
SOUTHPORT County Borough invites tenders by September 24th for the supply of motor spirit for six or 12 months. The schedule of quantities and tender form may be obtained from the Town Clerk, Town Hall, Southport.
A Motor Sales Centre.
An ambitious scheme for erecting in the West End of London of what is described as a "motor centre," devoted to the sale of private and commercial vehicles, motor boats, caravans, especially second-hand units,is being developed by Mr. William Glass, Regent Arcade House, 252, Regent Street, London, W.1, the organizer of the Used-Motor Show.
The cost of the building suggested will be about £800,000, and this will be found by a big corporation and other city interests.
Under the new proposes of the L.C.C., it is hoped to build to a height of 150 ft. Around the outside of each floor will be a 20-ft. covered roadway and a footpath which, by way of ramps, will permit vehicles to be driven 11 mile from the street to the roof. The showroom area will be about three times that of the main hall of Olympia and will be divided between individual traders. It is anticipated that the building will be ready for use within 12 months.
B28