A New Dennis Street Cleanser
16th September 1932
Page 46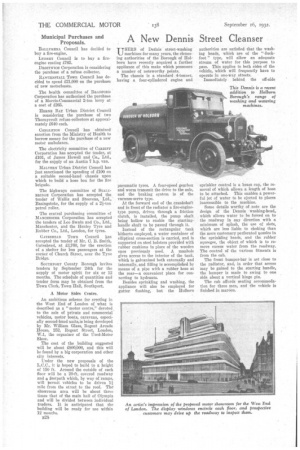 Page 46, 16th September 1932 —
A New Dennis Street Cleanser
Close
TTSERS of Deneis street-washing machines for many years, the cleansing authorities of the Borough of Holborn have recently acquired a further appliance of this make which possesses a number of noteworthy points.
The chassis is a standard 44onuer, having a four-cylindered engine and pneumatic tyres. A four-speed gearbox and worm transmit the driVe to the axle, and the braking system is of the vacuum-servo type.
At the forward end of the crankshaft and in front of the radiator a fire-enginetype pump, driven through a friction clutch, is installed, the pump shaft being hollow to enable the startinghandle shaft to be passed through it.
Instead of the rectangular tank hitherto employed, a water container of elliptical cross-section is carried, and is supported on steel bolsters provided with rubber cushions in place of the wooden ones previously used. A manhole gives access to the interior of the tank, which is galvanized both externally and internally, and filling is accomplished by means of a pipe with a rubber hose at the rear—a convenient place for connecting to hydrants.
Besides sprinkling and washing, the appliance will also be employed for gutter flushing, but the Holborn authorities are satisfied that the washing heads, which are of the " duckfoot " type, will allow an adequate stream of water for this purpose to Pass. This applies to both sides of the vehicle, which will frequently have to operate in one-way streets.
Immediately behind the off-side sprinkler control is a brass cap, the removal of which allows a length of hose to be attached. This enables a powerful jet of water to be ejected to places inaccessible to the machine.
Some details worthy of note are the design of the Dennis washing-head, which allows water to be forced on to the roadway in any direction with a minimum of splash, the use of slots, which are less liable to choking than the more customary perforated nozzles in the sprinkling heads, and the rubber squeegee, the object of which is to remove excess water from the roadway. The control of the various fitments is from the cab.
The front bumper-bar is set close to the radiator, and, in order that access may be gained to the starting handle, the bumper is made to swing to one side about a vertical hinge pin.
The cab affords seating accommodation for three men, and the vehicle is finished in maroon.