Passing Comments
16th September 1932
Page 40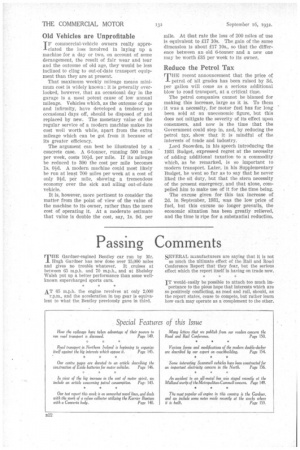 Page 41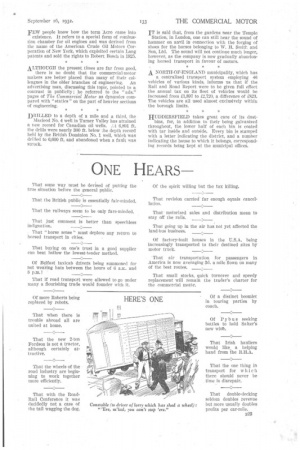 Page 40, 16th September 1932 —
Passing Comments
Close
Keywords :
TEE Gardner-engined Bentley car run by Mr. Hugh Gardner has now done over 1,5,000 miles and gives no trouble whatever. It cruises at between 65 m.p.h. and 70 m.p.h., and at Shelsley Walsh put up a better performance than some wellknown supercharged sports cars.
AT 65 m.p.h. the engine revolves at only 2,000 r.p.m., and the acceleration in top gear is equivalent to what the Bentley previously gave in third.
SEVERAL manufacturers are saying that it is not so much the ultimate effect of the Rail and Road Conference Report that they fear, but the serious effect which the report itself is having on trade now.
IT would, easily be possible to attach too much im
portance to the pious hope that interests which are so positively conflicting, as road and rail, should, as the report states, cease to compete, but rather learn how each may operate as a complement to the other. FEW people know how the term Acro came into existence. It refers to a special form of combustion chamber for oil engines and was derived from the name of the American Crude Oil Motors Corporation of New York, which exploited certain Lang patents and sold the rights to Robert Bosch in 1925.
ALTHOUGH the present tithes are far from good, there is no doubt that the commercial-motor makers are better placed than many of their colleagues in the older branches of engineering. An advertising man, discussing this topic, pointed to a contrast in publicity ; he referred to the "ads." pages of The Commercial Motor as dynamics compared with 'statics" on the part of heavier sections of engineering.
DRILLED to a depth of a mile and a third, the Macleod No. 4 well in Turner Valley has attained a new record for Canadian oil wells. Lt 6,891 ft. the drills were nearly 300 ft. below the depth record held by the British Dominion No. 1 well, which was drilled to 6,600 ft, and abandoned when a fault was struck. IT is said that, from the gardens near the Temple Station, in London, one can still hear the sound of hammer on anvil in connection with the forging of shoes for the horses belonging to W. H. Smith and Son, Ltd. The sound will not continue much longer, however, as the company is now gradually abandoning horsed transport in favour of motors.
A NORTH-OF-ENGLAND municipality, which has a centralized transport system employing 46 vehicles of various kinds, informs us that if the Rail and Road Report were to be given full effect the annual tax on its fleet of vehicles would be increased from £1,897 to £2,720, a difference of £823. The vehicles are all used almost exclusively within the borough limits.
HUDDERSFIELD takes great care of its dust. bins, for, in addition to their being galvanized throughout, the lower half of each bin is coated with tar inside and outside. Every bin is stamped with a letter indicating the district, and a number indicating the house to which it belongs, corresponding records being kept at the municipal offices.