Co-operation of Road Interests Coming
16th September 1932
Page 39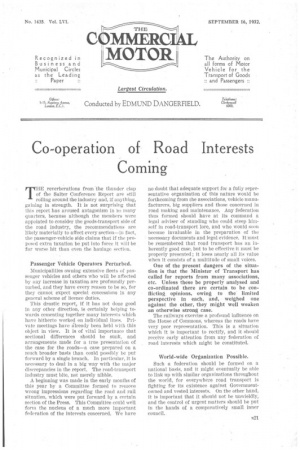 Page 39, 16th September 1932 —
Co-operation of Road Interests Coming
Close
T'HE ..reverberations from the thunder clap of the Salter Conference Report are still rolling around the industry and, if anything, gaining in strength. it Is not surprising that this report.has aroused antagonism in 'so many quarters, because although the Members were appointed to consider the goods-transport side of the road industry, the recommendations are likely materially to affect every section—in fact, the passenger-vehicle side claims that if the proposed extra taxation be put into force it will be far worse hit than even the haulage section.
Passenger Vehicle Operators Perturbed.
Municipalities owning extensive fleets of passenger vehicles and others who will be affected by any increase In' taxation are profoundly perturbed, and they have every reason to be so, for they cannot expect special concessions in any general scheme of licence duties.
This drastic report., if it has not done good in any other direction, is •certainly helping towards cementing together many interests which have hitherto worked on individual lines. Private meetings have already been held with this object in view. It is of vital importance that sectional differences should be sunk, and arrangements made for a true presentation of the case for the roads--a case prepared on a much broader basis than could possibly be put forward by a single branch. In particular, it is necessary to deal in a big way with the major discrepancies in the report. The road-transport industry must bite, not merely nibble.
A beginning was made in the early months of this year by a Committee formed to remove wrong impressions regarding the road and rail situation, which were put forward by a certain section of the Press. This CoMmittee could well form the nucleus of a much more important federation of the interests concerned. We have no doubt that adequate support for a fully representative organization of this nature would be forthcoming from the associations, vehicle manufacturers, big suppliers and those concerned in road making and maintenance. Any federation thus formed should have at its command a legal adviser of standing, who could steep himself in road-transport lore, and who would soon become invaluable in the preparation of the necessary documents and legal evidence. It must be 'remembered that road transport has an inherently good case, but to be effective it must be properly presented ; it loses nearly all its value when it consists of a multitude of small voices.
One of the present dangers of the situation is that the Minister of Transport has called for reports from many associations, etc. Unless these be properly analysed and co-ordinated there are certain to he conflicting opinions, owing to the limited perspective in each, and, weighed one against the other, they might well weaken an otherwise strong case.
The railways exercise a profound influence on the House of Commons, whereas the roads have very poor representation. This is a situation which it is important to rectify, and it should receive early attention from any federation of road interests which might be constituted.
World-wide Organization Possible.
Such a federation should be formed on a national basis, and it might eventually be able to link up with similar organizations throughout the world, for everywhere road transport is fighting for its existence against Governmentowned and vested. interests. On the other hand, it is important that it should not he unwieldly, and the control of urgent matters should be put in the hands of a comparatively small inner council.