One Hears
16th September 1915
Page 3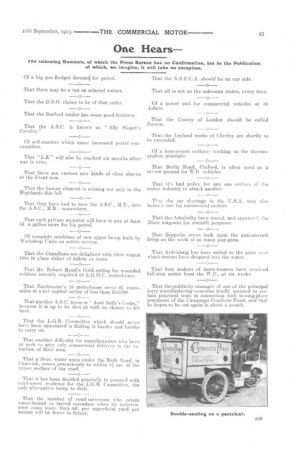 Page 3, 16th September 1915 —
One Hears
Close
The totlowing Rumours, of which the Press Bureau has no Confirmation, but to the Publication of which, we imagine, it will take no exception.
Of a big pre-Budget demand for petrol. That there may be a tax on mineral waters. That the D.S.O. claims to be of that order.
That the Burford trailer has some good features.
0 That the A.S.C. is known as "Ally Sloper's Cavalry."
Of self-starters which cause increased petrol consumption.
That "L.Z." will also be reached six months after war is over.
That there are various new kinds of dose shaves at the Front now.
That the human element is missing not only in the Highlands this fall.
That They have had to turn the A.S.C., MT., into the A.S.C., 31.B.—somewhere.
That each private motorist will have to pay at least 3d. a gallon more for his petrol.
Of complete machines of new types being built by Workshop Units on active service. • That the Canadians are delighted with their wagon tilts in place either of billet's or tents.
0 That Mr. Robert Mond's third outing for wounded soldiers recently required 50 L.G.O.C. motorbuses.
That Eastbourne's 10 motorbuses serve 0 routemiles at a net capital Outlay of less than 210,600.
That another A.S.C. name is "Aunt Sally's Corps," because it is up to be shot at with no chance to hit back.
That the L.G.B. Committee which should never have been appointed is finding it harder and harder to carry on.
0 That another difficulty for manufacturers who have or seek to give only commercial delivery is the retention of their men.
-0 That a 30-in, water main under the Bath Road, in Chiswick, comes precariously to within 8i ins, of the upper surface of the road.
—0 That. it has been decided generally to proceed with road-users' evidence for the L.G.B. Committee, the only alternative being to drift.
That the number of road-surveyors who retain water-bound or tarred macadam when its maintenance costs more than 6d. per superficial yard per annum will be fewer in future. That the N.S.P.C.A. should be on our side.
0 That all is not as the salesman states, every time.
Of a power unit for commercial vehicles at 50 lollars.
That the County of London should be called Bussex.
That the Leyla.nd works at Chorley are shortly to be extended.
0 Of a honeycomb radiator working on the thermosyphon principle.
That Berlin Road, Catford, is often used as a review-ground for W.D. vehicles. • That it's bad policy for any one section of the motor industry to attack another.
0_ T1 at the car shortage in the U.S.A. may also beeoure one for commercial motors. • That the Admiralty have tested, and approved, the Dixie magneto for aircraft purposes.
—0- That Zeppelin crews look upon the anti-aircraft firing as the work of so.many. pop-guns. .
That Ardrishaig has been added to the piers over which motors have dropped into the water.
That four makers of three-tonners have received full-stop notiee from the W.D., at six weeks.
That tlielpublieity manager of one of the principal lorry-manufacturing(,concorns kindly assisted in certain practical tests in connection with boxing-glove purchases of the Campaign -Comforts Fund, and that lie hopes to be out again in about a month.