Neutral Notes.
16th September 1915
Page 18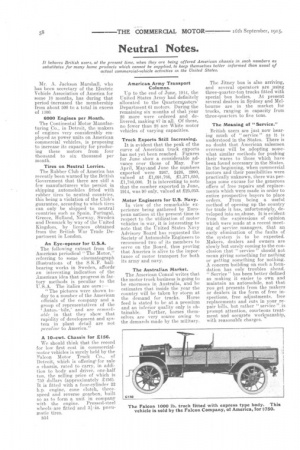 Page 18, 16th September 1915 —
Neutral Notes.
Close
It behoves British users, at the present time, when they are being offered American .chassis in such numbers substitutes for many home products which cannot be supplied, to keep themselves better informed than usual actual commercial-vehicle activities in the United States.
Mr. A. Jackson Marshall, who has been secretary of the Electric Vehicle Association of America for some 18 months' has during that period increased the membership from about 500 to a total in excess of 1100.
6000 Engines per Month.
The Continental Motor Manufacturing Co., in Detroit, the makers of engines very considerably employed as power units on American commercial vehicles, is proposing to increase its capacity for producing these motors from four thousand to six thousand per month.
Tires on Neutral Lorries.
The Rubber Club of America has recently been warned by the British Government that there are still a few manufacturers who persist in shipping automobiles fitted with rubber tires to neutral countries, this being a violation of the Club's guarantee, according to which tires can only be shipped .to neutral countries such as Spain, Portugal, Greece, Holland, Norway, Sweden and Denmark by way of the United Kingdom, by licences obtained from the British War Trade Department in London.
An Eye-opener for U.S.A.
The following extract from the American periodical "The Motor," referring to some cinematograph illustrations of the S.K.F. ballbearing works in Sweden, affords' an interesting indication of the American idea that progress in factory methods is peculiar to the U.S.A. The italics are ours :— "The pictures were shown to day to a number of the American officials of the company and a group of representatives of the
Autou -bile,' and are remark
able in that they show that rapidity of development and sys tern in plant detail are not peculiar to America."
A 10-cwt. Chassis for £156.
We should think that the record for low first cost in commercialmotor vehicles is surely held by the Falcon Motor Truck Co., of Detroit, which is offering l for sale a chassis, rated to carry, in addition to body and driver, one-half ton, the selling price of which is 750 dollars (approximately £156). It is fitted with a four-cylinder 22 h.p. engine, cone clutch, threespeed and reverse gearbox, built so as to form a unit in company with the engine. Pressed-steel wheels ,are fitted and 31. ,in. pneumatic tires.
n54 American Army Transport Columns.
Up to the end of June, 1914, the United States Army had definitely allocated to the Quarternaasters' Department 61 motors. During the remaining six months of that year 28 more were ordered and delivered, making 87 in all. Of these, no fewer than 26 are White motor vehicles of varying capacities.
Truck Exports Still Increasing.
It is evident that the peak of the curve of American truck exports has not yet been reached. Figures for June show a considerable advance over those of May. For April, May:and June the nqrnbers exported were 2267, 2426, 2990, valued at £1,091,766, £1,371,650, £1,786,000. It is interesting to note that the number exported in June, 1914, was 90 only, valued at 225,053.
Motor Engineers for U.S. Navy.
In view of the remarkable experience being gathered by European nations at the present time in respect to the utilization of motor vehicles in war, it is interesting to note that the United States Navy Advisory Board has requested the Society of Automobile Engineers to recommend two of its members to serve on the Board, thus proving that America is alive to the importance of motor transport for both its army and navy.
The Australian Market.
The American Consul writes that the motor truck business is going to be enormous in Australia, and he estimates that inside the year the country will be taken by storm at the demand for trucks. Horse feed is stated to be at a premium and an inferior quality only is obtainable. Further, horses themselves are very scarce owing to the demands made by the military.
The Jitney bus is also arriving, and several operators are using three-quarter-ton trucks fitted with
special bus bodies. At present several dealers in Sydney and Melbourne are in the market for trucks, ranging in capacity from three-quarters to five tons.
The Meaning of "Service."
British users are just now hearing much of " service" as it is understood in the States. There is 110 doubt that American salesmen overseas will be adopting somewhat similar methods for pushing their wares to those which have been found necessary in the States. in the beginning, when commercial motors and their possibilities were practically unknown, there was perhaps some excuse for the generous offers of free repairs and replacements which were made in order to entice prospective buyers to place orders. From being a useful method of opening up the country for trade it has, unfortunately, developed into an,abuse. It is evident from the expressions of opinion which were .made at a recent meeting of service managers, that an early elimination of the faults of the system is to be expected. Makers, dealers and owners are slowly but surely coming to the conclusion that " service" should not mean giving something for nothing or getting something for nothing. A concern building on such a foundation has only troubles ahead. " Service " has been better defined as making it easier to own and maintain an automobile, not that you get presents from the makers or dealers in the form of free inspections, free adjustments. free replacements and cuts in your repair bills, but rather " service ". is prompt attention, courteous treatment and accurate workmanship, with reasonabre charges.