Patroness: H.R.H. Princess Arthur of Connaught.
16th September 1915
Page 15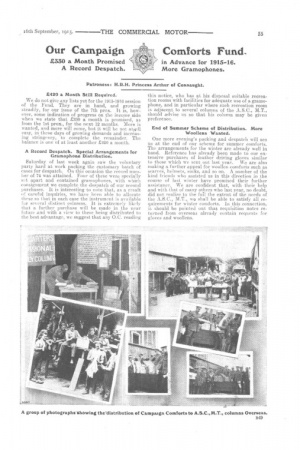 Page 15, 16th September 1915 —
Patroness: H.R.H. Princess Arthur of Connaught.
Close
£420 a Month Still Required.
We do not give any lists yet for the 1915-1916 session of the Fund. They are in hand, and growing steadily, for our issue of the 7th prox. It is, however, some indication of progress on the income side when we state that 3:10 a month is promised, as from the 1st prox., for the next 12 months. More is wanted, and more will come, but it will be, not ah4111 easy, in these days of growing demands and increasing stringency, to complete the remainder. The balance is one of at least another 2420 a month.
A Record Despatch. Special Arrangements for Gramophone Distribution.
Saturday of last week again saw the voluntary party hard at work packing the customary batch of eases for despatch. On this occasion the record number of 74 was attained. Four of these were specially set apart and contained gramophones, with which consignment we complete the despatch of our second purchases. It is interesting to note that, as a result of careful inquiries, we have been able to allocate i hese so that in each case the instrument is available for several distinct columns. It is extremely likely that a further purchase will be made in the near future and with a view to these being distributed to the best advantage, we suggest that any 0.0. reading
this notice, who has at his disposal suitable recreation rooms with facilities for adequate use of a gramophone, and in particular where such recreation room is adjacent to several columns of the A.S.C., M.T., should advise us so that his column may be given preference.
End of Summer Scheme of Distribution. More Woollens Wanted.
One more evening's packing and despatch will see us at the end of our scheme for summer comforts. The arrangements for the winter are already well in hand, Reference has already been made to our extensive purchases of leather driving gloves similar to those which we sent out last year. We are also making a further appeal for woollen comforts such as scarves, helmets, socks, and so on. A number of the kind friends who assisted us in this direction in the course of last winter have promised their further assistance. We are confident that, with their help and with that of many others who last year, no doubt, did not realize to the full the extent of the needs of the A.S.C., M.T., we shall be able to satisfy all requirements for winter comforts. In this connection, it should be pointed out that requisition notes returned from overseas already contain requests for gloves and woollens.