Opinions and Queries
16th October 1942
Page 29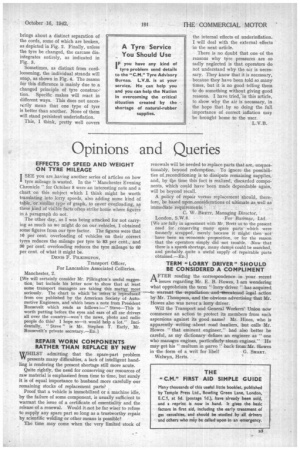 Page 29, 16th October 1942 —
Opinions and Queries
Close
EFFECTS OF SPEED AND WEIGHT ON TYRE MILEAGE I SEE you are having another series of articles on how
tyre mileage is wasted. In the "Manchester Evening Chronicle" for October 8 were an interesting note and a chart on this subject which I think might be worth translating into lorry speeds, also adding some kind of table, or similar type of graph, to cover overloading, as these kind of visible facts often strike home where figures in a paragraph do not.
The other day, as I was being attacked for not carrying as much as we might do on our vehicles, I obtained some figures from our tyre factor. The figures were that 10 per cent, overloading of vehicles on their correct tyres reduces the mileage per tyre to 83 per cent., and 30 per cent. overloading reduces the tyre mileage to 60 per cent, of what it might be.
DENIS F. PILKINGTON, Transport Officer, For Lancashire Associated Collieries. Manchester, 2.
[We will certainly consider Mr. Pilkington's useful suggestion, but include his letter now to show that at least some transport managers arc taking this matte, most seriously. The chart to which The -refers -is ieprocli2ea from one published by the American Society of Automotive Engineers, and which bears a note from President Roosevelt which reads as follows :—" Steve—This is worth putting before the eyes and ears of all car drivers all over the country—won't the news, photo and radio people do this? I hope so—it would help a lot." Incidentally, " Steve " is Mr. Stephen T. Early, Mr. Roosevelt's private secretary.—Eo.1 REPAIR WORN COMPONENTS RATHER THAN REPLACE BY NEW
'WHILST admitting that the spare-part problem VT presents many difficulties, a lack of intelligent handling is rendering the present shortage still more acute. Quite rightly, the need for conserving our resources of raw material is emphasized from time to time, but surely it is of equal importance to husband more carefully our remaining stocks of replacement parts?
Proof that a vehicle is immobilized or a machine idle, by the failure of some component, is usually sufficient to warrant the issue of a certificate of essentiality and the release of a renewal. Would it not be far wiser to refuse to supply any spare part so long as a trustworthy repair by scientific welding or other means is possible?
The time may come when the very limited stock of renewals will be needed to replace parts that are, unquestionably, beyond redemption. To ignore the possibilities of reconditioning is to dissipate remaining supplies, and, by ttie time this fact is realized, discarded components, which could have been made dependable again, will be beyond recall.
A policy of repair versus replacement should, therefore, be based upon ,considerations of ultimate as well as immediate requirements.
C. W. BRETT, Managing Director, London, S.W.6. For Barimar, Ltd.
[We are fully in agreement with Mr. Brett as to the present need for. conserving many spare parts which were formerly scrapped, merely because it might then not have been an economic proposition, or for the reason that the operators simply did not trouble. Now that there is a spares shortage, many dumps could be searched, and probably quite a useful supply of repairable parts obtained.—Eo.)
TERM ',LORRY DRIVER" SHOULD BE CONSIDERED A COMPLIMENT AFTER reading the correspondence in your recent issues regarding Mr. E. B. Howes, I am wondering what opprobrium the term "lorry driver" has acquired, ----to warrant the repudiation and–threatened legal action by Mr. Thompson, and the obvious advertising that Mr. Howes also was never a lorry driver.
Will the Transport and General Workers' Union now commence an action to protect its members from such aspersions against its good name? Mr. Hines, who is apparently writing about road hauliers, but calls Mr. Howes "that eminent engineer," had also better be careful, as my dictionary defines an engineer as "one who manages engines, particularly steam engines." He may get his " multum in parvo " back from Mr. Howes in the form of a writ for libel! G. SMART. Welwyn, Herts.