The Prospective Function of Rail and Road
16th October 1942
Page 26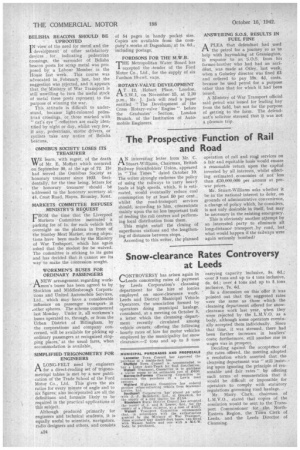 Page 26, 16th October 1942 —
The Prospective Function of Rail and Road
Close
A N interesting letter from Mr. C. 1-1 Stuart-Williams, Chairman, British Railway Stockholders' Union, appeared in "The Times" dated October 111 The writer strongly endorses the policy of using the railways to carry heavy loads at high speeds, which, it is estimated, would eventually reduce coal consumption by at least 50 per cent., whilst the road-transport services should, according to him, concentrate Mainly upon the no less important task of feeding the rail centres and performing local distribution from them.
This might entail the closing of superfluous stations and the lengthening of distances between stops.. According to this writer, the planned
operation of rail and road services on a fair and equitable basis would ensure a reasonable return upon the capital invested by all interests, whilst effecting estimated economies of not less than £30,000,000 per annum at pre
war prices. •
Mr. Stuart-Williams asks whether it he in the nationalinterest to defer, on grounds of administrative convenience, a change of policy which, he considers, is not only desirable in itself, but may be necessary in the existing emergency.
This is obviously another attempt by an interested party to eliminate all long-distance transport by road, but what would happen if the railways were again seriously bombed?