Chassisless 3-cwt.
16th November 1951
Page 62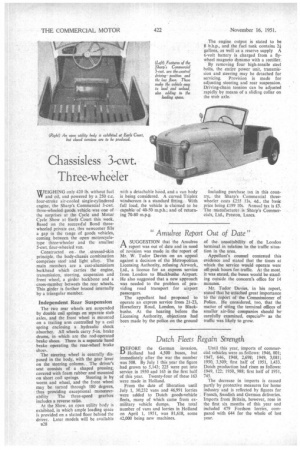 Page 62, 16th November 1951 —
Chassisless 3-cwt.
Close
Three-wheeler
WEIGHING only 420 lb. without fuel and oil, and powered by a 250 c.c. four-stroke air-cooled single-cylindered engine, the Sharp's Commercial 3-cwt. three-wheeled goods vehicle. was one of the surprises at the Cycle and Motor Cycle Show at Earls Court this week. Based on the successful Bond threewheeled private car, this newcomer fills a gap in 'the range of goods vehicles, coming between the open motorcycletype three-wheeler and the smallest 5-cwt. four-wheeled van.
Constructed on the , stressed-skin principle, the body-chassis combination comprises steel and light. alloy. The main members are a cast-aluminium bulkhead which carries the engine, transmission, steering, suspension and front wheel, a girder backbone and a cross-member between the rear wheels. This girder is further braced internally by a triangular member.
Independent Rear Suspension
The two rear wheels are suspended by double coil springs on separate stub axles, and the front wheel is mounted on a trailing arm controlled by a coil spring enclosing a hydraulic shock absorber. All wheels carry 5-in, brake drums, in which are the rod-operated brake shoes, There is a separate hand brake operating the rear-wheel brake shoes.
The steering wheel is centrally disposed in the body, with the gear lever on the steering column... The driver's seat consists of a shaped pressing. covered with foam rubber and mounted on short coil springs. Steering is by worm and wheel, and the front wheel may be turned through 180 degrees, thus providing exceptional manoeuvrability The three-speed gearbox includes a reverse ratio.
, At the Show, an open utility body is exhibited, in which ample loading space is provided on a slatted floor behind the driver. Later models will be available a28 with a detachable hood, and a van body is being considered. A curved Triplex windscreen is a standard fitting. With full load, the vehicle is claimed to be capable of 40-50 m.p.h., and of returning 70-80 m.p.g. The engine output is stated to be 8 b.h.p., and the fuel tank contains 2t gallons, as well as a reserve supply A 6-volt battery is charged from a flywheel magneto dynamo with a rectifier.
By removing four high-tensile steel bolts, the entire power unit, transmission and steering may be detached for servicing. Provision is made for adjusting steering and rear suspension. Driving-chain tension can be adjusted rapidly by means of a sliding collar on the stub axle.
Including purchase tax in this country, the Sharp's Commercial threewheeler costs £255 13s. 4d., the bask price being £199 10s. Annual tax is £5. The manufacturer is Sharp's Commercials, Ltd., Preston, Lancs.