A Licence is N ot Transferable, says- , But • • E. H.
16th November 1951
Page 60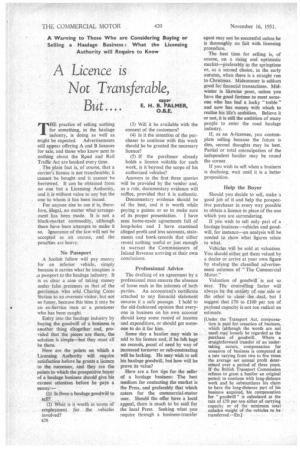 Page 60, 16th November 1951 —
A Licence is N ot Transferable, says- , But • • E. H.
Close
B. PALMER, THE practice of selling nothing for something, in the haulage industry, is doing as well as might be expected. Advertisements still appear offering A and B licences for sale, and those who know next. to nothing about the Rraad and Rail Traffic Act are hooked every time.
The plain fact is, of course, that a carrier's licence is not transferable; it cannot be bought. and 'it cannot he borrowed. It can be obtained from no one but a Licensing Authority, and it is without value to any but the one to whom it has been issued.
For anyone else to use it is, therefore, illegal, no matter what arrangement has been made. It is not a black-market commodity, although there have been attempts to make it so. Ignorance of the law will not be accepted as an excuse, and the penalties are heavy.
No Passport A foolish fellow will pay money for an inferior vehicle, simply because it carries what he imagines is .a passport to the haulage industry. It is as clear a case of taking money under false pretences as that of the gentleman who sold Charing Cross Station to an overseas visitor, but not so funny, because this time it may be an ex-Service man or a pensioner who has been caught.
Entry into the haulage industry by buying the goodwill of a business is another thing altogether and, provided that the pieces are there, the solution iS simple—but they must all be there.
Here are the points on which a Licensing Authority will require satisfaction before he grants a licence to the successor, and they are the points to which the prospective buyer of a haulage business should give his earnest attention before he pays a Denny:— (1) Is there a haulage goodwill to sell? .
(2) What is it worth in terms of employment., for. the vehicles involved?
132.6 (3) Will it be available with the consent of the customers?
(4) Is it the intention of the purchaser to continue with this work should he be granted the necessary licence?
(5) If the purchaser already holds a licence suitable for such work, is it beyond the scope of his authorized vehicles?
Answers to the first three queries will be provided by the vendor and, as a rule, documentary evidence will suffice, provided that it is authentic.
Documentary evidence should be of the best, and it is worth while paying a guinea or so to make sure of its proper presentation. I have seen home-made agreements full of loop-holes and I have examined alleged profit and loss accounts, statements and book-records that either reveal nothing useful or just enough to warrant the Commissioners of Inland Revenue arriving at their own conclusions.
Professional Advice The drafting of an agreement by a professional man ensures the absence of loose ends in the interests of both parties. An accountant's certificate attached to any financial statement ensures it a safe passage. I hcild to the old-fashioned opinion that everyone in business on his own account should keep some record of income and expenditure, or should get someone to do it for him.
Some day a haulier may wish to add to his licence and, if he ha's kept no records, proof of need by way of increased turnover or sub-contracting will be lacking. He may wish to sell his haulage goodwill, but how will he prove its value?
Here area few tips for the seller of a haulage business: The best medium for contacting the market is the Press, and preferably that which caters for the commercial-motor user. Should the offer have a local appeal, there is much. to be said for the local Press. Seeking what you require through a business-transfer
agent may not be successful unless he is thoroughly au fait with licensing procedure.
The best time for selling is, of course, on a rising and optimistic market—preferably in the springtime or, as a second choice, in the early autumn, when there is a straight run to Christmas. Midsummer is seldom good for financial transactions. Midwinter is likewise poor, unless you have the good fortune to meet someone who has had a lucky " treble " and now has money with which to realize his life's ambition. Believe it or not, it is still the ambition of many people to enter the road haulage industry.
If, as an A-licensee, you contemplate selling because the future is dim, second thoughts may be best. Partial or total emancipation of the independent haulier may be round the corner.
If you wish to sell when a business is declining, wait until it is a better proposition.
Help the Buyer Should you decide to sell, make a good job of it and help the prospective purchaser in every way possible to obtain a licence in place of the one which you are surrendering.
If you wish to sell only part of a haulage business—vehicles and goodwill, for instance—an analysis will be needed to show what figures relate to what.
Vehicles will be sold at valuation. You should either get them valued by a dealer or arrive at your own figure by studying the classified advertisement columns of "The Commercial Motor."
Valuation of goodwill is not so easy. The . controlling factor will always be the anxiety of one side 'or the other to close the deal, but I suggest that £70 to E100 per ton of payload capacity is not too radical an estimate.
[Under the Transport Act, compensation is paid for cessation of business, which (although the words are not used) may loosely be regarded as the purchase of goodwill. Where a straightforward transfer of an undertaking occurs, compensation for cessation of business is computed at a rate varying from two to five times the average net anntial profit determined over a period of three years. If the British Transport Commission refuses to grant a haulier an original permit to continue with long-distance work and he substantiates his claim to have the long-distance part of his business acquired, his compensation for " goodwill " is calculated at the rate of £70 per ton either of carrying capacity or of the minimum total unladen weight of the vehicles to-be transferred.---ED.1