"Back in the Same Box "—Col. Jerrett
16th November 1951
Page 39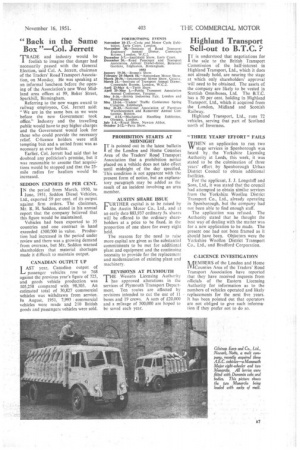 Page 39, 16th November 1951 —
"Back in the Same Box "—Col. Jerrett
Close
TRADE and industry would be foolish to imagine that danger had -necessarily passed with the General Election, said Col. A. Jerrett, chairman of the Traders' Road Transport Association, on Monday. He was speaking at an informal luncheon before the opening of the Association's new West Midland area offices at 99, Baker Street, Sparkhill, Birmingham.
Referring to the new wages award to railway employees, Col. Jerrett said: "We are in the same box as we were before the new Government took office." Industry and the travelling public would have to pay higher charges and the Government would look for those who could provide the necessary relief. C-licence holders were still tempting bait and a united front was as necessary as ever before.
Earlier, Col. Jerrett had said that he doubted any politician's promise, but it was reasonable to assume that acquisitions would be stopped and that the 25mile radius for hauliers would • be increased.
SEDDON EXPORTS 59 PER CENT. I N the period from March, 1950, to June, 1951, Seddon Diesel Vehicles, Ltd., exported 59 per cent. of its output against firm orders. The chairman, Mr. R. H. Seddon, stated in his annual report that the company believed that this figure would be maintained. Vehicles had been exported to 35 countries and one contract in hand exceeded £300,000 in value. Production had increased in the period under review and there was a growing demand from overseas, but Mr.. Seddon warned shareholders that material shortages made it difficult to maintain output.
CANADIAN OUTPUT UP
LAST year, Canadian output of -LA passenger vehicles rose to 768 against the previous year's figure of 725, and goods vehicle production was 105,258 compared with 98,303. An estimated total of 30,827 commercial vehicles was withdrawn from service. In August, 1951, 7,993 commercial vehicles were made and 210 British goods and passengers-vehicles were sold.
PROHIBITION STARTS AT MIDNIGHT IT is pointed out in the latest bulletin I of the London and Home Counties Area of the Traders' Road Transport Association that a prohibition notice placed on a vehicle does not take effect until midnight of the day specified. This condition is not apparent with the present form of notice, but an explanatory paragraph may be added as the result of an incident involving an area member.
AUSTIN SHARE ISSUE
FURTHER capital is to be raised by the Austin Motor Co., Ltd., and at an early date 883,937 ordinary 5s. shares will be offered. to the ordinary shareholders at a price to be fixed, in the proportion of one share for every eight held.
The reasons for the need to raise more capital are given as the substantial commitments to be met for additional plant and equipment and the continuing necessity to provide for the replacement and modernization of existing plant and machinery.
REVISIONS AT PLYMOUTH
THE Western Licensing Authority has approved alterations in the services of Plymouth Transport Department. Ten routes are affected by revisions intended to cut the use of 11 . buses and 19 crews. A sum of £20,000 and a mileage of 500,000 are hoped to he saved each year.