Potter to trial Eco Canter in York YORKSHIRE-BASED Potter Logistics
16th May 2013
Page 8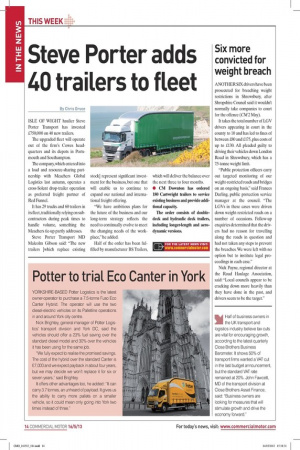 Page 8, 16th May 2013 —
Potter to trial Eco Canter in York YORKSHIRE-BASED Potter Logistics
Close
is the latest owner-operator to purchase a 7.5-tonne Fuso Eco Canter Hybrid. The operator will use the two diesel-electric vehicles on its Palletline operations in and around York city centre.
Nick Brightey, general manager of Potter Logistics' transport division and York DC, said the vehicles should offer a 23% fuel saving over the standard diesel model and 30% over the vehicles it has been using for the same job.
"We fully expect to realise the promised savings. The cost of the hybrid over the standard Canter is £7,000 and we expect payback in about four years, but we may decide we won't replace it for six or seven years," said Brightey.
It offers other advantages too, he added: "It can carry 3.7 tonnes, an unheard of payload. It gives us the ability to carry more pallets on a smaller vehicle, so it could mean only going into York two times instead of three."