Government backs haulage skills fund AN AMBITIOUS plan to establish
16th May 2013
Page 7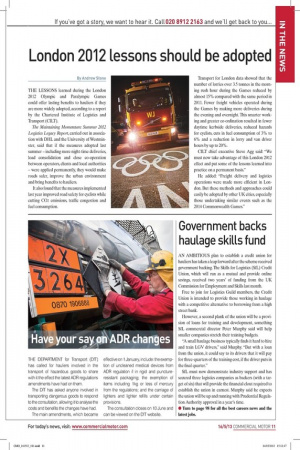 Page 7, 16th May 2013 —
Government backs haulage skills fund AN AMBITIOUS plan to establish
Close
a credit union for hauliers has taken a leap forward after the scheme received government backing. The Skills for Logistics (Sit) Credit Union, which will run as a mutual and provide online savings, received two years' of funding from the UK Commission for Employment and Skills last month.
Free to join for Logistics Guild members, the Credit Union is intended to provide those working in haulage with a competitive alternative to borrowing from a high street bank.
However, a second plank of the union will be a provision of loans for training and development, something Sit commercial director Peter Murphy said will help smaller companies stretch their training budgets.
"A small haulage business typically finds it hard to hire and train LGV drivers," said Murphy. "But with a loan from the union, it could say to its drivers that it will pay for three-quarters of the training cost, if the driver puts in the final quarter."
Sit must now demonstrate industry support and has secured three logistics companies as backers (with a target of six) that will provide the financial clout required to establish the union in earnest. Murphy said he expects the union will be up and running with Prudential Regulation Authority approval in a year's time.
• Turn to page 98 for all the best careers news and the latest jobs.