Trade bodies ask government to reconsider Driver CPC rules By
16th May 2013
Page 5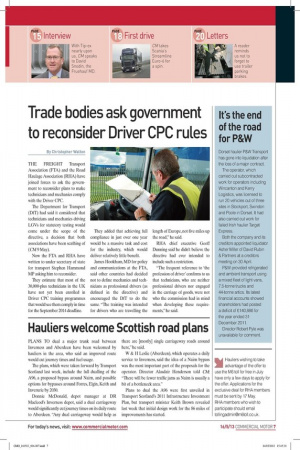 Page 5, 16th May 2013 —
Trade bodies ask government to reconsider Driver CPC rules By
Close
Christopher Walton THE FREIGHT Transport Association (FTA) and the Road Haulage Association (RHA) have joined forces to ask the government to reconsider plans to make technicians and mechanics comply with the Driver CPC.
The Department for Transport (DfT) had said it considered that technicians and mechanics driving LGVs for statutory testing would come under the scope of the directive, a decision that both associations have been scathing of (CM 9 May).
Now the FTA and RHA have written to under secretary of state for transport Stephen Hammond MP asking him to reconsider.
They estimate that most of the 30,000-plus technicians in the UK have not yet been enrolled in Driver CPC training programmes that would see them comply in time for the September 2014 deadline. They added that achieving full compliance in just over one year would be a massive task and cost for the industry, which would deliver relatively little benefit.
James Hookham, MD for policy and communications at the FTA, said other countries had decided not to define mechanics and technicians as professional drivers (as defined in the directive) and encouraged the DfT to do the same. "The training was intended for drivers who are travelling the length of Europe, not five miles up the road," he said.
RHA chief executive Geoff Dunning said he didn't believe the directive had ever intended to include such a restriction.
"The frequent reference to 'the profession of driver' confirms to us that technicians, who are neither professional drivers nor engaged in the carriage of goods, were not who the commission had in mind when developing these requirements," he said.