The race is on to get new transport laws through
16th May 2013
Page 17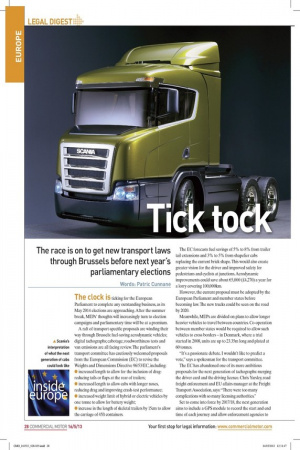 Page 18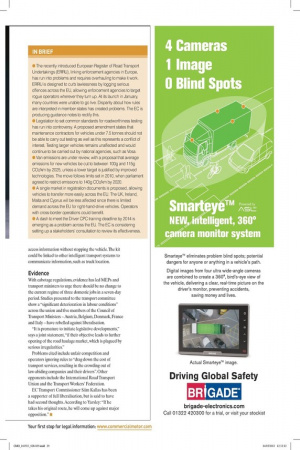 Page 17, 16th May 2013 —
The race is on to get new transport laws through
Close
Brussels before next year's parliamentary elections Wards: Patric cunnane The clock is ticking for the European Parliament to complete any outstanding business, as its May 2014 elections are approaching. After the summer break, MEPs' thoughts will increasingly turn to election campaigns and parliamentary time will be at a premium.
A raft of transport-specific proposals are winding their way through Brussels: fuel-saving aerodynamic vehicles; digital tachographs; cabotage; roadworthiness tests and van emissions are all facing review. The parliament's transport committee has cautiously welcomed proposals from the European Commission (EC) to revise the Weights and Dimensions Directive 96/53/EC, including: • increased length to allow for the inclusion of dragreducing tails or flaps at the rear of trailers; • increased length to allow cabs with longer noses, reducing drag and improving crash-test performance; • increased weight limit of hybrid or electric vehicles by one tonne to allow for battery weight; • increase in the length of skeletal trailers by 15cm to allow the carriage of 45ft containers. The EC forecasts fuel savings of 5% to 8% from trailer tail extensions and 3% to 5% from shapelier cabs replacing the current brick shape. This would also create greater vision for the driver and improved safety for pedestrians and cyclists at junctions. Aerodynamic improvements could save about €5,000 (£4,270) a year for a lorry covering 100,000km.
However, the current proposal must be adopted by the European Parliament and member states before becoming law. The new trucks could be seen on the road by 2020.
Meanwhile, MEPs are divided on plans to allow longer heavier vehicles to travel between countries. Co-operation between member states would be required to allow such vehicles to cross borders — in Denmark, where a trial started in 2008, units are up to 23.35m long and plated at 60 tonnes.
"It's a passionate debate. I wouldn't like to predict a vote," says a spokesman for the transport committee.
The EC has abandoned one of its more ambitious proposals for the next generation of tachographs: merging the driver card and the driving licence. Chris Yarsley, road freight enforcement and EU affairs manager at the Freight Transport Association, says: "There were too many complications with so many licensing authorities."
Set to come into force by 2017/18, the next generation aims to include a GPS module to record the start and end time of each journey and allow enforcement agencies to access information without stopping the vehicle. The kit could be linked to other intelligent transport systems to communicate information, such as truck location.
Evidence With cabotage regulations, evidence has led MEPs and transport ministers to urge there should be no change to the current regime of three domestic jobs in a seven-day period. Studies presented to the transport committee show a "significant deterioration in labour conditions" across the union and five members of the Council of Transport Ministers — Austria, Belgium, Denmark, France and Italy — have rebelled against liberalisation.
"It is premature to initiate legislative developments," says a joint statement, "if their objective leads to further opening of the road haulage market, which is plagued by serious irregularities."
Problems cited include unfair competition and operators ignoring rules to "drag down the cost of transport services, resulting in the crowding out of law-abiding companies and their drivers". Other opponents include the International Road Transport Union and the Transport Workers' Federation.
EC Transport Commissioner Sinn KaIlas has been a supporter of full liberalisation, but is said to have had second thoughts. According to Yarsley: "If he takes his original route, he will come up against major opposition." IN BRIEF • The recently introduced European Register of Road Transport Undertakings (ERRU), linking enforcement agencies in Europe, has run into problems and requires overhauling to make it work. ERRU is designed to curb lawlessness by logging serious offences across the EU, allowing enforcement agencies to target rogue operators wherever they turn up. At its launch in January, many countries were unable to go live. Disparity about how rules are interpreted in member states has created problems. The EC is producing guidance notes to rectify this.
• Legislation to set common standards for roadworthiness testing has run into controversy. A proposed amendment states that maintenance contractors for vehicles under 7.5 tonnes should not be able to carry out testing as well as this represents a conflict of interest. Testing larger vehicles remains unaffected and would continue to be carried out by national agencies, such as Vosa.
• Van emissions are under review, with a proposal that average emissions for new vehicles be cut to between 100g and 115g 002/km by 2025, unless a lower target is justified by improved technologies. The move follows limits set in 2010, when parliament agreed to restrict emissions to 140g 002/km by 2020.
• A single market in registration documents is proposed, allowing vehicles to transfer more easily across the EU. The UK, Ireland, Malta and Cyprus will be less affected since there is limited demand across the EU for right-hand-drive vehicles. Operators with cross-border operations could benefit.
• A dash to meet the Driver CPC training deadline by 2014 is emerging as a problem across the EU. The EC is considering setting up a stakeholders' consultation to review its effectiveness.