It has been 30 years since it first became mandatory
16th May 2013
Page 15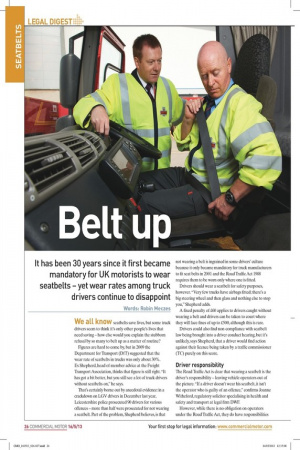 Page 16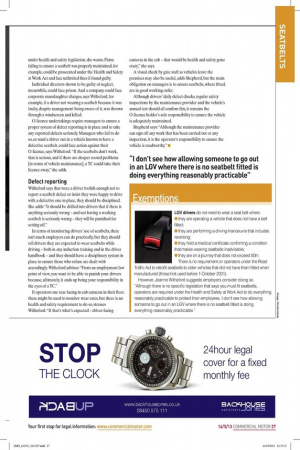 Page 15, 16th May 2013 —
It has been 30 years since it first became mandatory
Close
for UK motorists to wear seatbelts yet wear rates among truck drivers continue to disappoint Words: Robin Meczes We all know seatbelts save lives, but some truck drivers seem to think it's only other people's lives that need saving — how else would you explain the stubborn refusal by so many to belt up as a matter of routine?
Figures are hard to come by, but in 2009 the Department for Transport (DfT) suggested that the wear rate of seatbelts in trucks was only about 30%. Es Shepherd, head of member advice at the Freight Transport Association, thinks that figure is still right. "It has got a bit better, but you still see a lot of truck drivers without seatbelts on," he says.
That's certainly borne out by anecdotal evidence: in a crackdown on LGV drivers in December last year, Leicestershire police prosecuted 90 drivers for various offences — more than half were prosecuted for not wearing a seatbelt. Part of the problem, Shepherd believes, is that not wearing a belt is ingrained in some drivers' culture because it only became mandatory for truck manufacturers to fit seat belts in 2001 and the Road Traffic Act 1988 requires them to be worn only where one is fitted.
Drivers should wear a seatbelt for safety purposes, however. "Very few trucks have airbags fitted; there's a big steering wheel and then glass and nothing else to stop you," Shepherd adds.
A fixed penalty of £60 applies to drivers caught without wearing a belt and drivers can be taken to court where they will face fines of up to £500, although this is rare.
Drivers could also find non-compliance with seatbelt law being brought into a driver conduct hearing, but it's unlikely, says Shepherd, that a driver would find action against their licence being taken by a traffic commissioner (TC) purely on this score.
Driver responsibility The Road Traffic Act is clear that wearing a seatbelt is the driver's responsibility — leaving vehicle operators out of the picture. "If a driver doesn't wear his seatbelt, it isn't the operator who is guilty of an offence," confirms Joanne Witheford, regulatory solicitor specialising in health and safety and transport at legal firm DWF.
However, while there is no obligation on operators under the Road Traffic Act, they do have responsibilities under health and safety legislation, she warns. Firms failing to ensure a seatbelt was properly maintained, for example, could be prosecuted under the Health and Safety at Work Act and face unlimited fines if found guilty.
Individual directors shown to be guilty of neglect, meanwhile, could face prison. And a company could face corporate manslaughter charges, says Witheford, for example, if a driver not wearing a seatbelt because it was faulty, despite management being aware of it, was thrown through a windscreen and killed.
0-licence undertakings require managers to ensure a proper system of defect reporting is in place and to take any reported defects seriously. Managers who fail to do so, or send a driver out in a vehicle known to have a defective seatbelt, could face action against their 0-licence, says Witheford. "If the seatbelts don't work, that is serious, and if there are deeper rooted problems [in terms of vehicle maintenance], a TC could take their licence away," she adds.
Defect reporting Witheford says that were a driver foolish enough not to report a seatbelt defect or insist they were happy to drive with a defective one in place, they should be disciplined. She adds: "It should be drilled into drivers that if there is anything seriously wrong — and not having a working seatbelt is seriously wrong — they will be punished for setting off."
In terms of monitoring drivers' use of seatbelts, there isn't much employers can do practically, but they should tell drivers they are expected to wear seatbelts while driving — both in any induction training and in the driver handbook — and they should have a disciplinary system in place to ensure those who refuse are dealt with accordingly. Witheford advises: "From an employment law point of view, you want to be able to punish your drivers because, ultimately, it ends up being your responsibility in the eyes of a TC."
If operators use rear-facing in-cab cameras in their fleet, these might be used to monitor wear rates, but there is no health and safety requirement to do so, stresses Witheford. "If that's what's expected — driver-facing cameras in the cab — that would be health and safety gone crazy," she says.
A visual check by gate staff as vehicles leave the premises may also be useful, adds Shepherd, but the main obligation on managers is to ensure seatbelts, where fitted, are in good working order.
Although drivers' daily defect checks, regular safety inspections by the maintenance provider and the vehicle's annual test should all confirm this, it remains the 0-licence holder's sole responsibility to ensure the vehicle is adequately maintained.
Shepherd says: "Although the maintenance provider can sign off any work that has been carried out or any inspection, it is the operator's responsibility to ensure the vehicle is roadworthy." • LGV drivers do not need to wear a seat belt where: • they are operating a vehicle that does not have a belt fitted; • they are performing a driving manoeuvre that includes reversing; • they hold a medical certificate confirming a condition that makes wearing seatbelts inadvisable; • they are on a journey that does not exceed 50m.
There is no requirement on operators under the Road Traffic Act to retrofit seatbelts to older vehicles that did not have them fitted when manufactured (those first used before 1 October 2001).
However, Joanne Witheford suggests employers consider doing so. "Although there is no specific legislation that says you must fit seatbelts, operators are required under the Health and Safety at Work Act to do everything reasonably practicable to protect their employees. I don't see how allowing someone to go out in an LGV where there is no seatbelt fitted is doing everything reasonably practicable."