Don't underestimate use of trailer parking brakes I AM deeply
16th May 2013
Page 12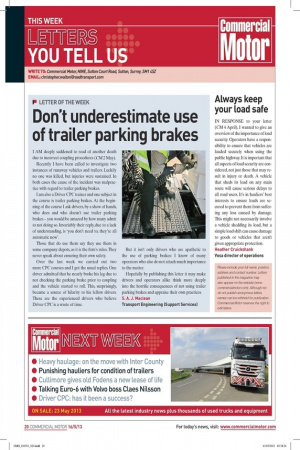 Page 12, 16th May 2013 —
Don't underestimate use of trailer parking brakes I AM deeply
Close
saddened to read of another death due to incorrect coupling procedures (CM 2 May).
Recently I have been called to investigate two instances of runaway vehicles and trailers. Luckily no one was killed, but injuries were sustained. In both cases the cause of the incident was malpractice with regard to trailer parking brakes.
I am also a Driver CPC trainer and one subject in the course is trailer parking brakes. At the beginning of the course I ask drivers, by a show of hands, who does and who doesn't use trailer parking brakes — you would be amazed by how many admit to not doing so. Invariably their reply, due to a lack of understanding, is 'you don't need to, they're all automatic now'.
Those that do use them say they use them in some company depots, as it is the firm's rules. They never speak about ensuring their own safety.
Over the last week we carried out two more CPC courses and I got the usual replies. One driver admitted that he nearly broke his leg due to not checking the parking brake prior to coupling and the vehicle started to roll. This, surprisingly, became a source of hilarity to his fellow drivers. These are the experienced drivers who believe Driver CPC is a waste of time. But it isn't only drivers who are apathetic to the use of parking brakes: I know of many operators who also do not attach much importance to the matter.
Hopefully by publishing this letter it may make drivers and operators alike think more deeply into the horrific consequences of not using trailer parking brakes and appraise their own practices. S. A. J. Maclean Transport Engineering (Support Services)