Advice from Piston and Liner Control
16th June 1944
Page 35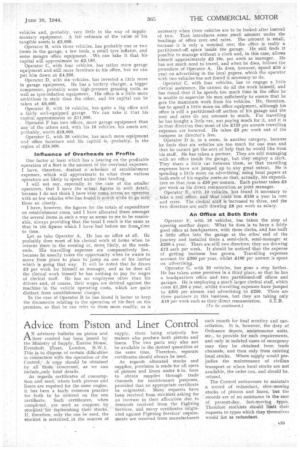 Page 35, 16th June 1944 —
Advice from Piston and Liner Control
Close
ANlinaedr vicsomobl ulhleatn n sibeoen piston and d aby the Ministry of Supply, Easton House, Eversholt Street, London, N.W.1. This in to dispose of certain difficulties
• &
;n connection with the operation of the Control.: A' copy should be obtained by all those concerned, as we can includeeonly brief details.
As regards certificates of consumption and need, where both pistons and liners are required for the same engine, it has been a fairly common practice for both to be ordered on the one certificate. Such certificates, when_ completed, are used as coupons by stockist e "for teplenishing their stocks. If, therefore, only the one be used, the stockist is restricted, in the sources of supply, there being relatively few makers who produce both pistons and liners. The two parts may also not be available in the desired quantities at the same time. Therefore, separate certificates should always be used.
As regards allocated stocks and supplies, provision is made for all users of pistons and liners under 6 in. bore to obtain supplies through trade channels for maintenance purposes, provided that an appropriate certificate be originated. Many requests have been received from stocklete asking for an increase in their allocation due to demands received from the Fighting Services, and many certificates originated against Fighting Services' requirements are received from manufacturers each month for final scrutiny and cancellation. It is, however, the duty of Ordnance depots, maintenance units, etc,, to provide for such requirements, and only in isolated cases of emergency may they be obtained from trade channels, and then only from existing local stocks, Where supply would prejudice the maintenance of civilian transport or where local stocks are not available, the order can, and should be, refused. "
The Control endeavours to maintain a record of redundant, slow-moving stocks of pistons and liners, but the records are of no assistance in the case of present-day, 'fast-moving types. Therefore' stockists should limit their requests to types which they themselves would list as redundant.