Ex-D.R.H.O. Peers Into 1 he Future
16th June 1944
Page 29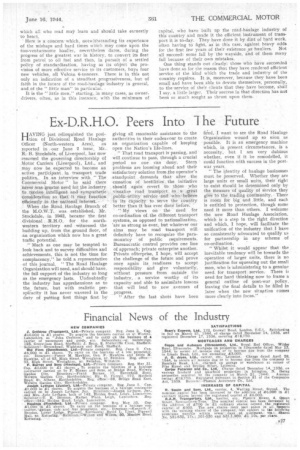 Page 29, 16th June 1944 —
Ex-D.R.H.O. Peers Into 1 he Future
Close
HAVING just relinquished the position of Divisional Road Haulage Officer (North-western Area), as reported in our June 2 issue, Mr, R B. Stockdale, of Liverpool, has now resumed the governing directorship of Motor Carriers (Liverpool), Ltd., and may now be expected to become an active participant in transport trade polities. In an interview with " The Commercial Motor " he said there never was greater need for the indtistry to receive intelligent and sympathetic consideration so. that it May function efficiently in the national interest.
When the Road Haulage Branch Of the M.O.W.T. was established, Mr. Stockdale, in 1942, became the first divisioual •R.H.O. for the northwestern territory and witnessed the building up, from the ground floor, of an organization which now has a great traffic potential.
" Much as one may be tempted to look back and to survey difficulties and achievements, this is not the time for complacency," he told a representative of this journal. " The Road Haulage Organization will need, and should have, the full support of the industry so long as the emergency lasts. Undoubtedly the industry has apprehensions as to the future, but with realistic perspiCacity it has never wavered in the duty of putting first things first by giving all reasOnable assistance to the authorities in their endeavour to create an organization capable of keeping open the Nation's life-lines, " That road transport is passing, and will continue to pass, through a crucial
period no one can deny. Stern ' problems are looming ahead and their satisfactory solution from the operator's standpoint demands that after the cessation of hostilities the initiative should again revert to those who visualize road transpoit as a great public utility service and who believe in its capacity to serve the country better than it has ever done before.
My views on the need for co-ordination of. the different transport systems, as opposed to nationalization, 'are as strong as ever, but whatever our aims may be road transport will definitely have to recognize the paramountcy of public requirements. Bureaucratic control provides one line of approach; private enterprise another. Private enterprise. I hope, will accept the challenge of the future and prove once again its readiness to accept responsibility and give voluntarily, without pressure from outside the industry, a service worthy of its capacity and able to assimilate lessons that will lead to new avenues of progress.
" After the last shots have been flied, I want to see the Road Haulage Organization wound up so sOon as possible. It is an emergency machine which, in present circumstances, is a necessity, but I am very dubious whether, even if it be remodelled, it could function with success in the postwar years.
" The identity of haulage businesses must be preserved. Whether they arclarge units or small units, their right to exist should be determined only by the rneasure of quality of service they give to the trading community. • There is room for big and little, and each is entitled to protection, though some need it more than others. I welcome the new Road Haulage Association, which is a step in the right direction and which, I hope, will facilitate the unification of the industry that I have so consistently advocated to qualify its for partnership in any scheme of co-ordination.
" Whilst it would appear that the inevitable tendency will be towards the operation of larger units, there is no justification for squeezing out the small man, who is 'administering to a genuine need for transport service. There is need for hard thinking now to frame a general outline of post-war policy, leaving the final details to be filled in later when the new situation comes more clearly into focus."