Joint Association Function in the Midlands
16th June 1944
Page 22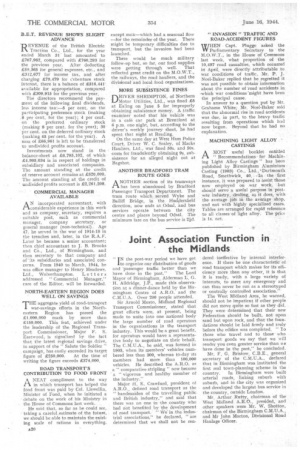 Page 22, 16th June 1944 —
Joint Association Function in the Midlands
Close
" IN the post-war period we have got Ito organize our distribution of goods and 'passenger traffic better than we have done in the past." The Lord Mayor of Birmingham, Alderman L. G. H. Alldridge, j .P , made this observation at a dinner-dance held by the Birmingham Centre of A.R.O. and the C.M.U.A. Over 200 people attended,
Sir Arnold lqusto, Midland Regional Transport Commissioner, stated that great efforts were, at present, being made to unite into one national body the large number of road operators in the organizations in the transport industry. This would be a great benefit. for operators would have a representative body to negotiate on their behalf. The C.M.U.A., he said, was formed in 1903, when its members' vehicles numbered less than 300, whereas to-day its members had more than 100,000 vehicles. He described the A.R.O, as a " comparative stripling" now become a " vigorous and healthy member of the industry."
Major H. E. Crawfurd, president of A.R.O., defined road transport as the " handmaiden of the travelling public and British industry," and said that there was no one in the .country who had not benefited by the development of road transport. " Wein the industrial associations," be declared, " are determined that we shall not be ren dered ineffective by internal interference. If there be one characteristic of road transport which makes for its efficiency more than any other, it is that it is ready, with a large variety of interests, to meet any emergency and can thus never be run as a stereotyped or centrally controlled association."
The West Midland Area, he warned, should not be impatient if other people did not move quite so fast as they did, They were determined that their new Federation should be built, not upon sand but upon rock, and that the foundations should be laid firmly and truly before the edifice was completed. " To those who travel and to those who transport goods we say that we will render you even greater service than u e have done in the past," he concluded.
Mr. F. G, Bristow, C.B.E., general secretary of the C.M.U.A., declared that in Birmingham was instituted the first real town-planning scheme in the country, In Birmingham were built arterial roads, linking suburb with suburb, and in the city was organized and developed the largest bus service in the country, outside London.
Mr, Arthur Rutty, chairman of the West Midland A.R.O., presided, and other speakers were Mr. W. Shotton, chairman of the Birmingham C,M.U.A., and Mr John Morton, Divisional Road Haulage Officer.