One Hears—
16th June 1944
Page 19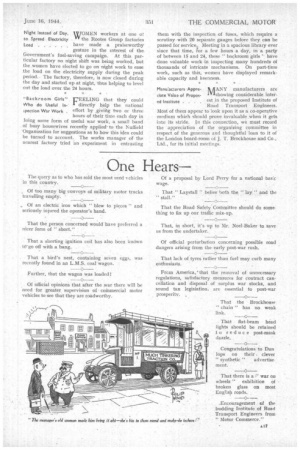 Page 19, 16th June 1944 —
One Hears—
Close
The query as to who has sold the most used vehicles in this. country.
Of too many big convoys of military motor trucks travelling empty. ' • _ Of an electric iron which " blew to pieces " and seriously injured the operator's hand.
That the person concerned would have preferred a nicer form of " short."
That a shorting ignition coil has also been known tiergo off with a bang.
That a bird's nest, containing seven eggs, was recently found in an L.M.S. coal wagon.
Further, that the wagon was loaded !
Of official opinions that after the ,war there will be need for greater supervision of commercial motor vehicles to see that they are roadworthy.
Of a proposal by Lord Perry for a national basic wage.
That " Laystall " belies both the " lay " and the " stall."
That the Road Safety Cortimittee should do some thing to fix up our traffic mix-up.
That, in short, it's up to Mr. Noel-Baker to save us from the undertaker.
Of official perturbation concerning possible road dangers arising from the early post-war rush.
That lack of tyres rather than fuel may curb many enthusiasts.
From America,' that the removal of unnecessary regulations, satisfactory measures for contract cancellation and disposal of surplus war stocks, and sound tax legislation, are essential to post-war prosperity.
That the Brockhouse " chain " has no weak link.
That flat-beam head lights should be retained to reduce post-mask dazzle.
Congratulations to Dun lops on their. clever " synthetic " advertise tnent.
That there is a f' war on wheels " exhibition of broken glass on most English roads.
Encouragement of the budding Institute of Road Transport Engineers from " Motor Commerce."