Massive profits leap at Volvo as production soars
16th July 1987
Page 7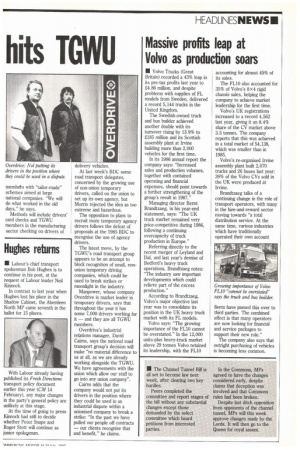 Page 7, 16th July 1987 —
Massive profits leap at Volvo as production soars
Close
• Volvo Trucks (Great Britain) recorded a 43% leap in its pre-tax profits last year to 24.86 million, and despite problems with supplies of FL models from Sweden, delivered a record 5,144 trucks in the United Kingdom.
The Swedish-owned truck and bus builder achieved another double with its turnover rising by 13.9% to 2185 million and its Scottish assembly plant at Irvine building more than 2,000 vehicles for the first time.
In its 1986 annual report the company says: "Increased sales and production volumes, together with contained operating and financial expenses, should point towards a further strengthening of the group's result in 1987."
Managing director Bernt Brandtzaeg, in his year-end statement, says: "The UK truck market remained very price-competitive during 1986, following a continuing overcapacity of truck production in Europe."
Referring directly to the recent merger of Leyland and Daf, and last year's demise of Bedford's heavy truck operations, Brandtzaeg notes: "The industry saw important developments which could relieve part of the excess production."
According to Brandtzaeg, Volvo's major objective last year was to consolidate its position in the UK heavy truck market with its FL models.
Volvo says: "The growing importance of the FL10 cannot be overstated." In the 12,000 units-plus heavy-truck market above 29 tonnes Volvo retained its leadership, with the FL10 accounting for almost 45% of its sales.
The FL10 also accounted for 35% of Volvo's 8x4 rigid chassis sales, helping the company to achieve market leadership for the first time.
Volvo's UK registrations increased to a record 4,562 last year, giving it an 8.4% share of the CV market above 3.5 tonnes. The company reports that this was achieved in a total market of 54,138, which was smaller than in 1985.
Volvo's re-organised Irvine assembly plant built 2,070 trucks and 26 buses last year: 39% of the Volvo CVs sold in the UK were produced at Irvine.
Brandtzaeg talks of a continuing change in the role of transport operators, with many in the hire-and-reward sector moving towards "a total distribution service. At the same time, various industries which have traditionally operated their own account fleets have passed this over to third parties. The combined effect is that many operators are now looking for financial and service packages to support their new role."
The company also says that outright purchasing of vehicles is becoming less common.