TH GLASS TIM NIACHIN
16th July 1987
Page 28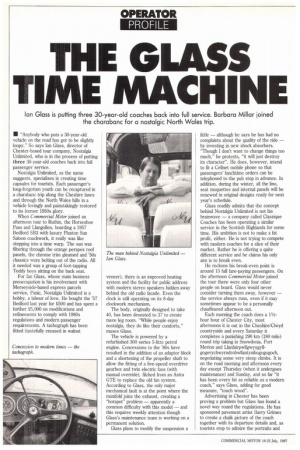 Page 29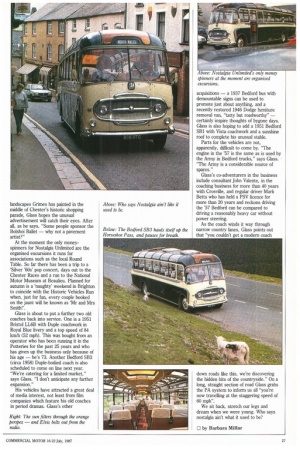 Page 28, 16th July 1987 —
TH GLASS TIM NIACHIN
Close
• "Anybody who puts a 30-year-old vehicle on the road has got to be slightly loopy." So says Ian Glass, director of Chester-based tour company, Nostalgia Unlimited, who is in the process of putting three 30-year-old coaches back into full passenger service.
Nostalgia Unlimited, as the name suggests, specialises in creating time capsules for tourists. Each passenger's long-forgotten youth can be recaptured in a charabanc trip along the Cheshire lanes and through the North Wales hills in a vehicle lovingly and painstakingly restored to its former 1950s glory.
When Commercial Motor joined an afternoon tour to Ruthin, the Horseshoe Pass and Llangollen, boarding a 1957 Bedford SB3 with luxury Plaxton Sun Saloon coachwork, it really was like stepping into a time warp. The sun was filtering through the orange perspex roof panels, the chrome trim gleamed and '50s chassics were belting out of the radio. All it needed was a group of foot-tapping Teddy boys sitting on the back seat.
For Ian Glass, whose main business preoccupation is his involvement with Merseyside-based express parcels service, Panic, Nostalgia Unlimited is a hobby, a labour of love. He bought the '57 Bedford last year for £500 and has spent a further £5,000 on modifications and refinements to comply with 1980s regulations and modern passenger requirements. A tachograph has been fitted (tastefully encased in walnut veneer), there is an improved heating system and the facility for public address with modern stereo speakers hidden away behind the old radio facade. Even the clock is still operating on its 8-day clockwork mechanism.
The body, originally designed to take 40, has been deseated to 37 to create more leg room. "While people enjoy nostalgia, they do like their comforts," muses Glass.
The vehicle is powered by a refurbished 300 series 5-litre petrol engine. Concessions to the '80s have resulted in the addition of an adaptor block and a shortening of the propeller shaft to allow the fitting of a five-speed overdrive gearbox and twin electric fans (with manual override), filched from an Astra GTE to replace the old fan system. According to Glass, the only major mechanical fault is at the point where the manifold joins the exhaust, creating a "hotspot" problem — apparently a common difficulty with this model — and this requires weekly attention though Glass's maintenance team is working on a permanent solution.
Glass plans to modify the suspension a little — although he says he has had no complaints about the quality of the ride — by investing in new shock absorbers. "Though I don't want to change things too much," he protests, "it will just destroy its character". He does, however, intend to fit a Cellnet mobile phone so that passengers' lunchtime orders can be telephoned to the pub stop in advance. In addition, during the winter, all the lino, seat moquettes and internal panels will be renewed in original designs ready for next year's schedule.
Glass readily admits that the concept behind Nostalgia Unlimited is not his brainwave — a company called Classique Coaches has been operating a similar service in the Scottish Highlands for some time. His ambition is not to make a fat profit, either. He is not trying to compete with modern coaches for a slice of their market. Rather he is offering a quite different service and he claims his only aim is to break even.
He reckons his break-even point is around 15 full fare-paying passengers. On the afternoon Commercial Motor joined the tour there were only four other people on board. Glass would never consider turning them away, however — the service always runs, even if it may sometimes appear to be a personally chauffeured afternoon out.
Each morning the coach does a 1½hour hour of Chester City, most afternoons it is out in the Cheshire/Clwyd countryside and every Saturday it completes a punishing 290 km (180 mile) round trip taking in Snowdonia, Port Merion and Llanfairpwllgwyngyllgogerychwyrndrobwllantysiliogogogoch, negotiating some very steep climbs. It is on the road morning and afternoon every day except Thursday (when it undergoes maintenance) and Sunday, and so far "it has been every bit as reliable as a modern coach," says Glass, adding for good measure, "touch wood".
Advertising in Chester has been proving a problem but Glass has found a novel way round the regulations. He has sponsored pavement artist Barry Grimes to create a chalk picture of the coach together with its departure details and, as tourists stop to admire the portraits and
landscapes Grimes has painted in the middle of Chester's historic shopping parade, Glass hopes the unusual advertisement will catch their eyes. After all, as he says, "Some people sponsor the Bolshoi Ballet — why not a pavement artist?"
At the moment the only moneyspinners for Nostalgia Unlimited are the organised excursions it runs for associations such as the local Round Table. So far there has been a trip to a 'Silver '60s' pop concert, days out to the Chester Races and a run to the National Motor Museum at Beaulieu. Planned for autumn is a 'naughty' weekend in Brighton to coincide with the Historic Vehicles Run when, just for fun, every couple booked on the jaunt will be known as Mr and Mrs Smith!'.
Glass is about to put a further two old coaches back into service. One is a 1951 Bristol LL6B with Duple coachwork in Royal Blue livery and a top speed of 84 km/h (52 mph). This was bought from an operator who has been running it in the Potteries for the past 25 years and who has given up the business only because of his age — he's 73. Another Bedford SB3 (circa 1958) Duple-bodied coach is also scheduled to come on line next year. "We're catering for a limited market," says Glass. "I don't anticipate any further expansion."
His vehicles have attracted a great deal of media interest, not least from film companies which feature his old coaches in period dramas. Glass's other
acquisitions — a 1937 Bedford bus with demountable signs can be used to promote just about anything, and a recently restored 1946 Dodge furniture removal van, "tatty but roadworthy" — certainly inspire thoughts of bygone days. Glass is also hoping to add a 1951 Bedford SB1 with Vista coachwork and a sunshine roof to complete his unusual stable.
Parts for the vehicles are not, apparently, difficult to come by. "The engine in the '57 is the same as is used by the Army in Bedford trucks," says Glass. "The Army is a considerable source of spares."
Glass's co-adventurers in the business include consultant John Valente, in the coaching business for more than 40 years with Crosville, and regular driver Mark Betts who has held a PSV licence for more than 20 years and reckons driving the '57 Bedford can be compared to driving a reasonably heavy car without power steering.
As the coach winds it way through narrow country lanes, Glass points out that "you couldn't get a modern coach