Viking Transport licence revoked
16th July 1987
Page 16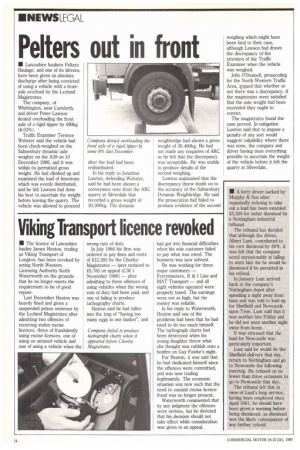 Page 16, 16th July 1987 —
Viking Transport licence revoked
Close
• The licence of Lancashire haulier James Heaton, trading as Viking Transport of Longton, has been revoked by acting North Western Licensing Authority Keith Waterworth on the grounds that he no longer meets the requirement to be of good repute.
Last December Heaton was heavily fined and given a suspended prison sentence by the Leyland Magistrates after admitting two offences of receiving stolen excise licences, three of fraudulently using excise licences, one of using an untaxed vehicle and one of using a vehicle when the wrong rate of duty.
In July 1986 his firm was ordered to pay fines and costs of £12,283 by the Chorley Magistrates — later reduced to 25,783 on appeal (CM 1 November 1986) — after admitting to three offences of using vehicles when the wrong rate of duty had been paid, and one of failing to produce tachography charts.
Heaton said he had fallen into the trap of "having too many eggs in one basket", and had got into financial difficulties when his sole customer failed to pay what was owed. The business was now solvent.
He was working for three major customers — Ferrymasters, B & I Line and MAT Transport — and all eight vehicles operated were properly taxed. The earnings were not as high, but the money was reliable.
In his reply to Waterworth, Heaton said one of the problems had been that he had tried to do too much himself. The tachograph charts had been destroyed when his young daughter threw what she thought was rubbish onto a bonfu-e on Guy Fawke's night.
For Heaton, it was said that he had vindicated himself since the offences were committed, and was now trading legitimately. The economic situation was now such that the need to commit excise licence fraud was no longer present.
Waterworth commented that by any judgment the offences were serious, but he directed that his decision should not take effect while consideration was given to an appeal.