Pelters out in front
16th July 1987
Page 16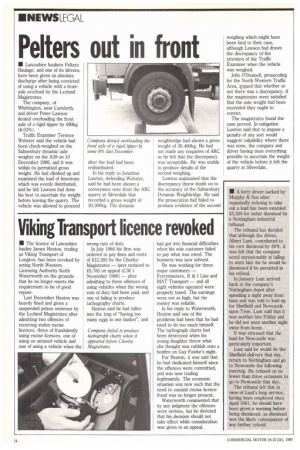 Page 16, 16th July 1987 —
Pelters out in front
Close
• Lancashire hauliers Pelters Haulage, and one of its drivers, have been given an absolute discharge after being convicted of using a vehicle with a frontaxle overload by the Leyland Magistrates.
The company, of Whittington, near Carnforth, and driver Peter Lawson denied overloading the front axle of a rigid tipper by 490kg (8.03%).
Traffic Examiner Terence Webster said the vehicle had been check-weighed on the Salmesbury dynamic axle weigher on the A59 on 10 December 1986, and it was within its permitted gross weight. He had climbed up and examined the load of limestone which was evenly distributed, and he felt Lawson had done his best to ascertain the weight before leaving the quarry. The vehicle was allowed to proceed after the load had been redistributed.
In his reply to Jonathon Lawton, defending Webster, said he had been shown a conveyance note from the ARC quarry at Silverdale that recorded a gross weight of 30,300kg. The dynamic weighbridge had shown a gross weight of 30,460kg. He had not made any enquiries of ARC as he felt that the discrepancy was acceptable. He was unable to produce details of the second weighing.
Lawton maintained that the discrepancy threw doubt on to the accuracy of the Salmesbury Dynamic Weighbridge. He said the prosecution had failed to produce evidence of the second weighing which might have been fatal to their case, although Lawson had drawn the discrepancy to the attention of the Traffic Examiner when the vehicle was weighed.
John O'Donnell, prosecuting for the North Western Traffic Area, grgued that whether or not there was a discrepancy, if the magistrates were satisfied that the axle weight had been exceeded they ought to convict.
The magistrates found the case proved. In mitigation Lawton said that to impose a penalty of any sort would suggest culpability where there was none, the company and driver having done everything possible to ascertain the weight of the vehicle before it left the quarry at Silverdale.