And to be going on with, he 'ered MPs a
16th July 1976
Page 7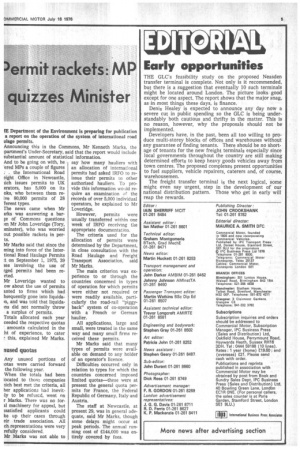 Page 7, 16th July 1976 —
And to be going on with, he 'ered MPs a
Close
couple of figures : . the International Road eight Office in Newcastle, iich issues permits to UK erators, has 5,000 on its oks, who between them reive 80,000 permits of 28 ferent types.
The news came when Mr trks was answering a barge of Commons questions mrn Mr John Loveridge (Tory, nninster), who was worried out possible rackets in perts.
Mr Marks said that since the ming into force of the Intertional Road Haulage Permits t on September 1, 1975, 39 ses involving the use of rged permits had been rerted.
Mr Loveridge wanted to ow about the use of permits anted to firms which had bsequently gone into liquidarn, and was told that liquidaos did not normally throw a surplus of permits.
Totals allocated each year ceeded the respective quotas amounts calculated in the ht of experience, to cater this, explained Mr Marks. say how many hauliers with an allocation of international permits had asked IRFO to reissue their permits to other authorised hauliers. To provide this information would require an examination of' the records of over 5,000 individual operators, he explained to Mr Loveridge.
However, permits were usually transferred within one week of IRFO receiving the appropriate documentation.
The criteria used for the allocation of permits were determined by the Department, in close consultation with the Road Haulage and Freight Transport Association, said Mr Marks.
The main criterion was experience to or through the countries concerned in types of operation for which permits were either not required or were readily available, particularly the road-rail "piggyback" system of co-operation with a French or German haulier.
All applications, large and small, were treated in the same way and many small firms received these permits.
Mr Marks said that many types of permits were available on demand to any holder of an operator's licence.
Difficulties occurred only in relation to types for which the countries concerned imposed limited quotas—these were at present the general quota permits for France, the Federal Republic of Germany, Italy and Austria.
The staff at Newcastle, at present 29, was in general adequate, said Mr Marks, though some delays might occur at peak periods. The annual running cost of 044,000 was entirely covered by fees.