Ewa
16th July 1976
Page 6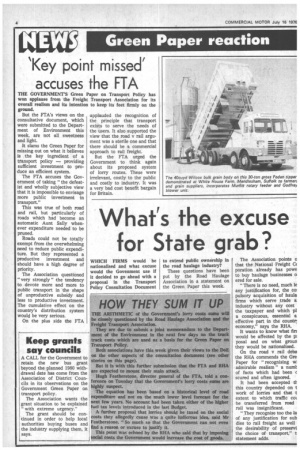 Page 6, 16th July 1976 —
Ewa
Close
'Key point missed accuses the FTA
THE GOVERNMENT'S Green Paper on Transport Policy has won applause from the Freight Transport Association for its overall realism and its intention to keep its feet firmly on the ground.
But the FTA's views on the consultative document, which were submitted to the Department of Environment this week, are not all sweetness and light.
It slams the Green Paper for missing out on what it believes is the key ingredient of a transport policy — providing sufficient investment to produce an efficient system.
The FTA accuses the Government of taking "the defeatist and wholly subjective view that it is impossible to envisage more public investment in transport."
This was true of both road and rail, but particularly of roads which had become an automatic Aunt Sally whenever expenditure needed to be pruned.
Roads could not be totally exempt from the overwhelming need to reduce public expenditure. But they represented a productive investment and should have a high degree of priority.
The Association questioned "very strongly" the tendency to devote more and more to public transport in the shape of unproductive subsidy and less to productive investment. The cumulative effect on the country's distribution system would be very serious.
On the plus side the FTA applauded the recognition of the principle that transport exists to serve the needs of the users. It also supported the view that the road v rail argument was a sterile one and that there should be a commercial approach to rail freight.
But the FTA urged the Government to think again about its proposed system of lorry routes. These were irrelevant, costly to the public and costly to industry. It was a very bad cost benefit bargain for Britain.