London plans small depots
16th July 1976
Page 4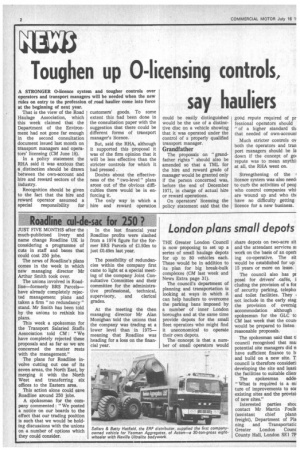 Page 4, 16th July 1976 —
London plans small depots
Close
THE Greater London Council is now proposing to set up a series of small haulage depots for up to 80 vehicles each. These would be in addition to its plan for big break-bulk complexes (CM last week and News Extra page 31).
The council's department of planning and transportation is looking at ways in which it can help hauliers to overcome the parking bans imposed by a number of inner London boroughs and at the same time provide depots for the small fleet operators who might find it uneconomical to operate their own depots.
The concept is that a number of small operators would share depots on two-acre sit and the attendant services at work on the basis of an open ing co-operative. The sit would be established for up 15 years or more on lease.
The council also has pi posal for drivers' -cafes, i cluding the provision of a for of security parking, telepho: and toilet facilities. They not include in the early stag the provision of overnig accommodation although spokesman for the GLC to CM last week that the coun, would be prepared to listen reasonable proposals.
The spokesman said that ti council recognised that ma: potential site managers did n have sufficient finance to bi and build on a new site. T council is therefore considert developing the site and least the facilities to suitable clieni The spokesman adda "What is required is a mi ture of improvements to sot existing sites and the provisii of new sites."
Interested parties shot: contact Mr Martin Foulk (assistant chief plann freight), Department of Pla fling and Transportatic Greater London Counc County Hall, London SEI 7P