FREIGHT Aid for small companies
16th July 1976
Page 26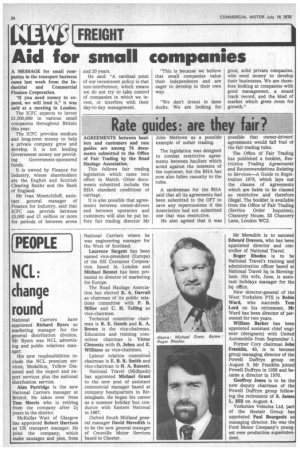 Page 26, 16th July 1976 —
FREIGHT Aid for small companies
Close
A MESSAGE for small companies in the transport business came last week from the Industrial and Commercial Finance Corporation.
"If you need money to expand, we will lend it," it was said at a meeting in London.
The ICFC expects to invest £1,500,000 in various small companies throughout Britain this year.
The ICFC provides medium and long-term money to help a private company grow and develop. It is not lending Government money nor provid ing Government-sponsored funds.
It is owned by Finance for Industry, whose shareholders are the English and Scottish Clearing Banks • and the Bank of England.
Mr Ivan Momtchiloff, assistant general manager of Finance for Industry, said that ICFC can provide between £5,000 and El million or more for periods of between seven and 20 years.
He said: "A cardinal point of our investment policy is that non-interference, which means we do not try to take control of companies in which we invest, or interfere with their day-to-day management. 'This is because we believe that small companies value their independence and are eager to develop in their own way.
"We don't invest in lame ducks. We are looking for good, solid private companies, who need money to develop their businesses. We are therefore looking at companies with good management, a sound track record, and the kind of market which gives room for growth."