Brewer tightens up and
16th July 1976
Page 25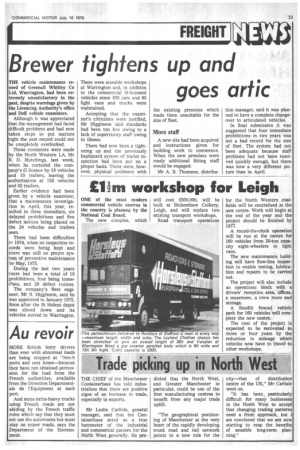 Page 25, 16th July 1976 —
Brewer tightens up and
Close
THE vehicle maintenance record of Greenall Whitley Co Ltd, Warrington, had been extremely unsatisfactory in the past, despite warnings given by the Licensing Authority's office and DoE vehicle examiners.
Although it was appreciated that the management had faced difficult problems and had now taken steps to put matters right the past record could not be completely overlooked.
These comments were made by the North Western LA, Mr R. D. Hutchings, last week, when he curtailed the company's 0 licence by 18 vehicles and 10 trailers, leaving the authorisation at 155 vehicles and 82 trailers.
Earlier evidence had been given by a vehicle examiner, that a maintenance investigation in April, this year, resulted in three immediate, six delayed prohibitions and five defect notices being placed on the 24 vehicles and trailers seen.
There had been difficulties in 1974, when no inspection records were being kept and there was still no proper system of preventive maintenance bv May, 1975.
During the last two years there had been a total of 19 prohibitions, four being irnmeelate, and 29 defect retices.
The company's fleet engineer, Mr R. Higginson, said he was appointed in January 1975. Soon after the St Helens depot was closed down and its vehicles moved to Warrington. There were sizeable workshops at Warrington and, in addition to the commercial 0-licensed vehicles some 300 cars and 80 light vans and trucks were maintained.
Accepting that the examiner's criticisms were justified, Mr Higginson said standards had been too low owing to a lack of supervisory staff owing to illness.
There had now been a tightening up and the previously haphazard system of trailer inspection had been put on a proper basis. There were, however, physical problems with