Mobile Entertainment Coach and Chapel A T the Sanctuary, Westminster Abbey,
16th July 1943
Page 31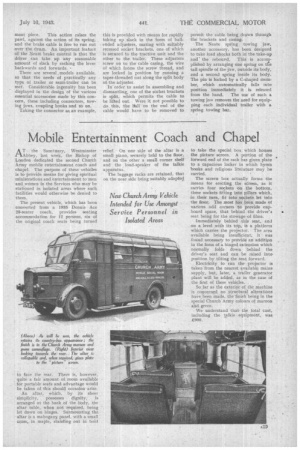 Page 31, 16th July 1943 —
Mobile Entertainment Coach and Chapel A T the Sanctuary, Westminster Abbey,
Close
last week, the Bishop of livondon dedicated the second Church Army mobile entertainment coach and chapel. The purpose of these vehicles is to provide means for giving spiritual ministrations and entertainment to men
• and women in the Services who may be stationed in isolated areas where such • facilities would otherwise be denied to them.
The present vehicle, which has been converted from a 1935 Dennis Ace 20-seater coach, provides seating accommodation for 12 persons, six of the original coach seats being turned to face the rear. There is, however, quite a fair amount of room available for portable scats and advantage would be taken of this should occasion arise.
An altar, which, by its sheer simplicity, possesses dignity, is arranged at the back of the body, the altar table, when not required, being let down on hinges. Surmounting the.
• altar is a mahogany panel, with a small cross, in maple, standing out in hold relief. On one side of the altar is a small piano, securely held to the floor, and on the other a small corner shelf and the loud-speaker of the talkie apparatus. The luggage racks are retained, that on the near side being suitably adapted to take t'he spacial boa which houses the picture screen. A portion of the forward end of the rack has given place to a capacious locker in which hymn books and religious literature may be carried.
The screen box actually forms the means for erecting the screen, as it carries four sockets on the bottom, these sockets fitting into pillars which, in their turn, fit into sockets let into -the Boor. The most has been made of various odd comers to provide cupboard space, that behind -the driver's seat being for the stowage of films.
Immediately behind this seat, and on a level with its top, is a platform which carries the projector. The area available being insufficient, it was found necessary to provide an addition in the form of a hinged extension which normally folds down behind the driver's seat and can be raised into position by tilting the seat forward.
Electricity to run the projector is taken from the nearest available mains supply, but, later, a trailer generator plant will be added, as in the case of the first of these vehicles.
So far as the exterior of the machine is concerned no structural alterations have been made, the being in the special Church Army colours of maroon and green.
We understand that the total cost, including the talkie equipment, was £900.