Efficicrit System of
16th July 1943
Page 28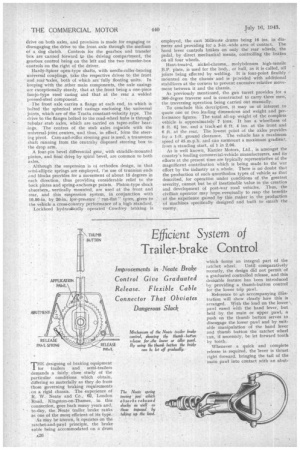 Page 31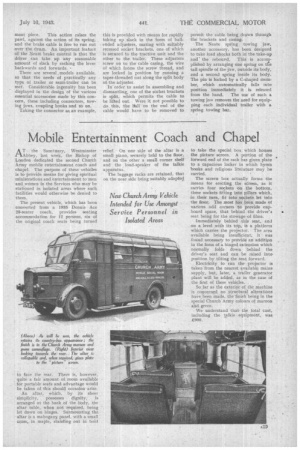 Page 28, 16th July 1943 —
Efficicrit System of
Close
Trailer-brake Control
THE designing of braking equipment for trailers and semi-trailers demands a fairly close study of the particular conditions which obtain, differing so materially as they do from those governing braking requirements on a rigid chassis. The experience of R, W. Neate and Co., 62, London
• Road, Kingston-on-Thames, in this connection, goes back many years and, • to-day, the Neat° trailer brake ranks as one of the most efficient of its type. As may be known, it operates on the ratchet-and-pad principle, the brake cable being accommodated on a drum which forms an integral part of the ratchet wheel. Until comparatively recently, the design did not permit of a graduated controlled release, and this desisable feature has been introduced by providing a thumb-button control for the lower trip pawl.
Reference to an accompanying Milstration will show clearly how this is arranged. With the load on the lower pawl eased with the hand lever, but held by the main or upper pawl, a push on the thumb button serves to disengage the lower pawl and by suitable manipulation of the hand lever and thumb button the" ratchet wheel can, if necessary, be let forward tooth by toCith. • Whenever a quick and complete release is. required, the 'lever is thrust right forward, bringing the tail of the main pawl into contact with an abut ment piece. This action raises the
pawl, against the action of its spring, and the brake cable is free to run out over the drum. An important feature of the Neate brake control is that the driver can take up any reasonable amount of slack by racking the lever backwards and forwards.
There are several , models available. so that the needs of practically any type of trailer or semi-trailer can be met. Considerable ingenuity has been displayed in the design of the various essential accessories made by this concern, these including connectors, towing jaws, coupling hooks and so on. Taking the connector aaan example, this is provided with means for rapidly taking up slack in the form of ballended adjusters, mating with suitably recessed socket brackets, one of which is secured to the tractive unit and the other to the trailer, These adjusters screw on to the cable casing, the wire of which forms the screw thread, and are locked in position by running a taper-threaded nut along the split body of the adjuster.
In' order to assist in assembling and dismantling, one of the socket brackets is split, which permits the cable to be lifted out. Were it not possible to do this, the Vail on the end of the cable would have to be removed to permit the cable being drawn through the brackets and casing.
The Neate spring towing jaw, another accessory, has been designed to take load shocks both in the take-up and' the rebound. This is accomplished by arranging one spring on the tail spindle of the jaw, outside its body, and a second spring inside its body. The pin iS locked by a C-shaped member, .which automatically falls into position immediately it is released from the hand. The use of such a towing jaw removes the need for equipping each individual trailer with a spring towing bar.