The Track-layer in a New Military Sphere
16th July 1943
Page 23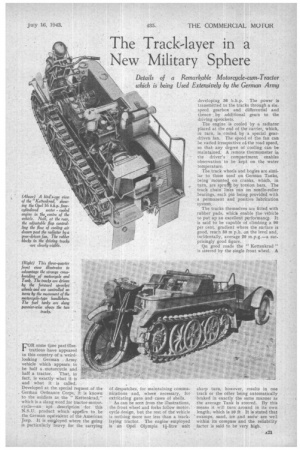 Page 23, 16th July 1943 —
The Track-layer in a New Military Sphere
Close
Details of a Remarkable Motorcycle-cum-Tractor . which is being Used Extensively by the German Army
L'OR some time past dins'. trations have appeared in this country of a weirdlooking German Army vehicle which appears to be half a motorcycle and
half a tractor. That, in fact, is exactly what it is and what it is called. Developed at the special request of the Genhan Ordnance Corps, it is known to the soldiers as the " Kettenkrad," which is a slang word for tractor-motorcycle—an apt description for this N.S.U. product which appears to be the German equivalent of the American Jeep. It is emaloyed where the going is particularly heavy for the carrying of despatches, for maintaining communications and, where necessary, for extricating guns and cases of shells.
As can be seen from the illustrations, the front wheel and forks follow motorcycle design, but the rest of the vehicle is nothing more nor less than a tracklaying tractor. The engine employed is an Opel Olympia li-litre unit
developing 36 b.h.p. The power is transmitted to the tracks through a sixspeed gearbox and differential and thence by additional gears to the driving sprockets.
The engine is cooled by a radiator placed at the end of the carrier, which, in turn, is cooled by a special geardriven fan. The speed of the fan can be varied irrespective (Attie road speed, so that any degree of cooling can be maintained. A remote thermometer in the driver's compartment enables observation to be kept on the water temperature.
The track wheels and bogies are similar to those used on German Tanks, being mounted on cranks, which, in turn, are sprint by torsion bars. The track chain links run on needle-roller bearings, each pin being provided with a permanent and positive lubrication system.
The tracks themselves are fitted with rubber pads, which enable the vehicle to put up an excellent perfornaancs. It is said to be capable of climbing a 90 per cent. gradient where the surface is good, reach 50 m ph. on the level and, incidentally, average 20 m.p.g.—a surprisingly good figure.
On good roads the " Kettenkrad " is steered by the single front wheel. A sharp turn, however, results in one track or the other being automatically braked in exactly the same manner as the average Tank is steered. By this means it will turn around in its own length, which is 10 ft It is stated that swamps, sand, ice and snow are we] within its compass and the reliability factor is said to be very high.