Rift Amongst Yorkshire Controlled Undertakings
16th July 1943
Page 19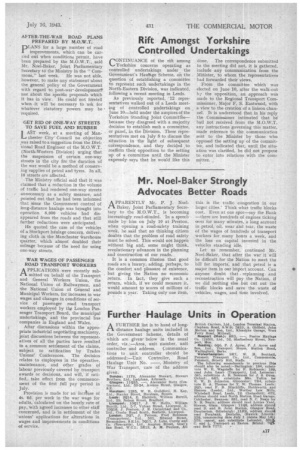 Page 19, 16th July 1943 —
Rift Amongst Yorkshire Controlled Undertakings
Close
CONT1NUANCE of the rift among ,...Yorkshire concerns operating as controlled undertakings under the Government's 1-faulttge Scheme, on the question of establishing a committee to represent such undertakings in the North-Eastern Division, was indicated, following a recent meeting in Leeds.
As previously reported, '12 representatives walked out of a Leeds meeting of controlled undertakings on June 10-held under the auspices of the Yorkshire Standing Joint Committeebecause they disagreed with a majority decision to establish such a committee, or panel, in the Division. These representatives met on July 8 to discuss the situation in the light of subsequent correspondence, and they deckled ,to reaffirm their opposition to the setting up of a committee until the' Minister expressly says that he would like this done. The correspondence submitted to the meeting did not, it is gathered, include any communication from the Minister, to whom the representatives had forwarded their views.
From the committee which was elected on June 10, after the walk-out b7 the opposition, an approach was made to the Regional Transport Commissioner, Major F. S. Eastwood, with a view to the creation of a liaison channel. It is understood that in his reply the Commissioner intimated that he had not received from the M.O.W,T. any instructions governing this matter, made reference to the communication sent to the Minister by those who opposed the setting up of the committee, and indicated that, until the situation was clarified, he did not propose to enter into relations with the committee.