Mr. Noel-Baker Strongly Advocates Better Roads
16th July 1943
Page 19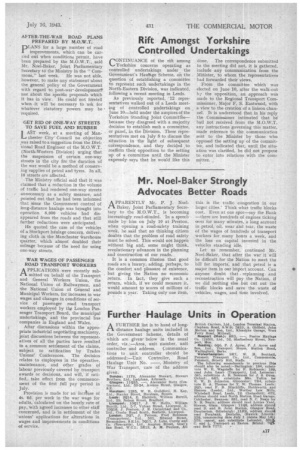 Page 19, 16th July 1943 —
Mr. Noel-Baker Strongly Advocates Better Roads
Close
APPARENTLY Mr. P. J. NoelBaker, Joint Parliamentary Secretary to the M.O.W.T., is becoming increasingly road-rilinded. In a speech made by him on July 10 at Preston, when opening a road-safety training week, he said that no thinking citizen doubts that the problem of road safety must be solved. This would not happen without big and, some might think, revolutionary advances in the planning and construction of our roads..
It is a common illusion that good roads are a luxury, adding, perhaps, to the comfort and pleasure of existence, but giving the Nation no economic return. In fact, they give such a return, which, if we could measure it, would amount to scores of millions of pounds a year. Taking only one item, this is the traffic congestion in our larger cities.' Think what traffic blocks cost. Even at one spot-say the Bank -there are hundreds of engines ticking over for many minutes, a long account in petrol, oil, wear abd tear, the waste of the wages of hundreds of transport workers for many hours a week, and the loss on capital invested in the vehicles standing idle.
Let us remember, continued Mr. Noel-Baker, that after the war it will be difficult for the Nation to meet the bill for imports; and that petrol is a major item in our import account. Can anyone doubt that . replanning and reconstruction will pay the Nation, if we did nothing else but cut out the traffic blocks and save the waste of vehicles, wages, and time involved.